About This Video
---
A clip/trailer of Violet & Daisy
Tags
:
Violet & Daisy
Type
: Movie Trailer
Views
: 493
This Movie Info
---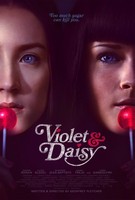 Violet (Alexis Bledel) and Daisy (Saoirse Ronan) are a pair of gum-cracking teenage assassins who casually snuff out crime figures in New York City, distracted only by the fact that a concert by their favorite pop idol Barbie Sunday has suddenly been canceled.
Determined to raise cash for some Barbie Sunday dresses, the duo takes on a new hit job, only to discover a kind of reckoning in the form of sad-sack shut-in (James Gandolfini) who is dying alone of terminal cancer. He persuades the duo to kill him out of mercy, prompting an odyssey of self-examination that catapults the junior enforcers into a world beyond Barbie Sunday and bullets for pay.
From Academy Award-winning screenwriter Geoffrey Fletcher (Precious) comes a mesmerizing hybrid of New York City crime fable and existential coming-of-age drama. In "Violet & Daisy" teenage kicks match wits with adult-world turmoil, placing three wounded souls into a line of fire none expected - themselves..