About This Video
---
A clip/trailer of [Rec] 3 Genesis
Tags
:
[Rec] 3 Genesis
Type
: Movie Trailer
Views
: 345
This Movie Info
---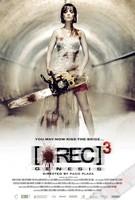 [Rec] 3 Genesis
Release Date :
September 07, 2012 Limited
Studio :
Sony Pictures Home Entertainment
Director :
Paco Plaza
Starring :
Leticia Dolera, Javier Botet, Diego Martin, Mireia Ros
Koldo and Clara are about to celebrate the most important day of their lives: their wedding.
Everything appears to be running smoothly and the bride and groom and their families are enjoying a wonderful day; that is until some of the guests start showing signs of a strange illness. Before they know what's happening, the bride and groom find themselves in the middle of a hellish ordeal, as an uncontrollable torrent of violence is unleashed on the wedding.
Amidst the chaos, Koldo and Clara become separated and begin a desperate search for one another. What started off as an idyllic day quickly descends into a nightmare of the worst kind...