About This Video
---
A clip/trailer of Finding Nemo
Tags
:
Finding Nemo
Type
: Movie Trailer
Views
: 1258
This Movie Info
---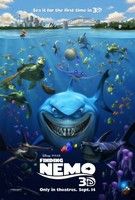 The Academy Award (R) - winning creators of "Toy Story", "A Bug's Life" and "Monsters, Inc." dive into a whole new world of computer-animated fun, fantasy, and heartfelt emotion with this stunning underwater adventure. This film follows the epic journeys of two fish - the overly cautious Marlin and his curious son, Nemo - who become separated in the Great Barrier Reef when Nemo is taken from ocean home. Despite of his fears of the open sea, Marlin embarks on a dangerous trek to find Nemo. Buoyed by the companionship of a friendly-but-forgetful fish named Dory, Marlin finds himself the unlikely hero of a thrilling journey to rescue his son.
Co-Written and directed by Oscar (R) nominee Andrew Stanton, who co-directed the 1998 Disney/Pixar hit "A Bug's Life" and is credited as co-screenwriter on all four of the previous Disney/Pixar features, "Finding Nemo" sets a new standard for the art and technology of computer animation with its incredible underwater world populated with memorable characters. John Lasseter (Pixar's executive vice president, creative) serves as executive producers. Albert Brooks, Ellen DeGeneres, Willem Dafoe, Geoffrey Rush, Allison Janney, Brad Garrett, Barry Humphries, Alexander Gould are featured in the talented voice "cast".
Comments
---

dwayne bonello i love this animated move finding nemo and i will see it finding nemo 3D and i will see over and over again and i will give 5stars!
posted by

dwayne bonello

on Oct 28, 2012