About This Video
---
A clip/trailer of The A-Team
Tags
:
The A-Team
Type
: Movie Trailer
Views
: 10362
This Movie Info
---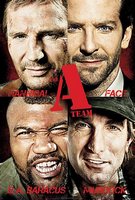 THE A-TEAM follows the exciting and daring exploits of a colorful team of former Special Forces soldiers who were set up for a crime they did not commit. Going "rogue," they utilize their unique talents to try and clear their names and find the true culprit. Liam Neeson ("Taken"), Bradley Cooper ("The Hangover"), mixed martial arts champ Quinton "Rampage" Jackson, and "District 9" sensation Sharlto Copley, are "The A-Team."
Comments
---

dwayne bonello i love this movie based on the series 80s and will see it and i will give 5stars!
posted by

dwayne bonello

on Oct 11, 2012

neh its good but not exellent but i would watch this is the 2nd movie to see this SUMMER HOT!!!!!!!!!
posted by

kayliegh

on Sep 01, 2010

I LOVE THIS MOVIE! IT'S SO GREAT, IT BRINGS BACK SO MANY MEMORIES. THANK YOU.
posted by

The A-Team

on Jun 28, 2010