About This Video
---

A clip/trailer of While She Was Out
Tags
:
While She Was Out
Type
: Movie Trailer
Views
: 1581
This Movie Info
---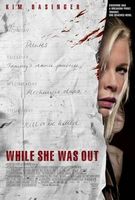 Prepare yourself for the ultimate white-knuckle thrill ride trough the horrific trenches of America's back woods. Academy Award winner Kim Basinger ("L.A. Confidental", "8 Mile") delivers perhaps the most audacious performance of her illustrious career, as Della, a suburban housewife, hell bent on survival as she is mercilessly stalked by a group of teenage thugs let by a manipulative psychopath (Luke Haas of "Witness").
Armed with only a toolbox and the will to survive, can Della make it through the night, or will this pack of rabid predators have their way? Craig Sheffer (TV's "One Tree Hill") co-stars in this intense suspense thriller about one women, a night full of terror and the ultimate breaking point that lives in us all.
Comments
---

by what i have seen so far it looks pretty fing rad man!
posted by

LiLB

on Feb 22, 2009