About This Video
---

This Movie Info
---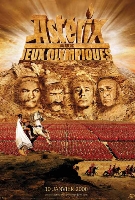 Asterix at the Olympic Games
Release Date :
January 13, 2008 France
Studio :
Pathe
Director :
Frederic Forestier, Thomas Langmann
Starring :
Clovis Cornillac, Gerard Depardieu, Alain Delon, Benoit Poelvoorde
Audacious young Gaul Alafolix falls head over heels in love with Greek Princesse Irina. With the help of Asterix, Obelix and their druid's magic potion, he travels to Greece to win the Olympic Games and Irina's heart. There, he finds himself himself in competition with Cesar's treacherous son Brutus, who is feverishly plotting his father's downfall. As everybody knowns, magic potions are banned at the Olympics. Luckily, Asterix has a plan...