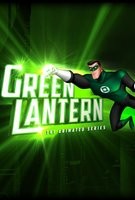 TV Info
---
Category
TV Series

Genre
Animation, Superhero

Starring :
Josh Keaton, Kevin Michael Richardson, Jason Spisak, Grey DeLisle, Brian George, Tom Kenny


July 22, 2011 03:07:51
Before Cartoon Network brings "
Green Lantern: The Animated Series
" to San Diego Comic Con this Friday, July 22, a preview to the new TV series has been shared via
AOL TV
. In the one-and-a-half-minute video, Hal Jordan of Earth seemingly lands on a quite serious situation since he is summoned to come before the Guardians of the Universe in Oa due to report that he punched someone in the face.
Set at the farthest reaches of deep space, the superhero show finds Hal on the Guardian Frontier, where he must face down an invasion from by the Red Lantern Corps. Powered by pure rage, the evil Red Lanterns have sworn to destroy the Green Lantern Corps and everything they stand for. Hal is joined by an all-new group of heroes on a mission to protect Guardian Space and the Green Lantern Corps itself.
...