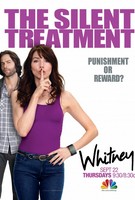 TV Info
---
Episode Premiere
January 11, 2012

Distributor
NBC

Genre
Comedy

Show Period
2011 - 2013

Production Company
Stuber Productions, Universal Media Studios


Cast and Crew
---
Director
Andy Ackerman
Screenwriter
Mathew Harawitz
Main Cast
Additional Cast
Synopsis
---
Whitney tries to use Alex's phone but finds that it's password protected. Whitney tells Alex that the fact that he uses a password indicates he doesn't trust her. Alex argues that he does trust her and that he's just protective about his phone. Whitney counters that they live together, so there should be no "my" things, just "our" things. Whitney and Mark unsuccessfully try to guess what the password is; Mark promises he will crack the password.
Whitney and Roxanne help Lily and Neal move into their new apartment. Now that she and Neal live together, Lily wonders how their relationship will change. Roxanne motions to the bathroom and tells her friend that she and Neal will now know everything about each other. Lily gets nervous and checks the bathroom for echoes.
Whitney arrives home and walks into the bedroom to find Alex "pleasuring himself." Alex and Whitney awkwardly talk about what she just saw. Whitney reassures him that it's okay; at least he's not cheating on her. Alex responds, "I've been doing that since I was 13. If anything, I'm cheating on that with you."
Alex confides in Mark that Whitney caught him last night "enjoying his own company." Alex is worried about how awkward it will now be with Whitney. Mark reassures Alex that it happens to every man, even to him.
Lily tries to use the bathroom but stops because Neal's nearby. She attempts to mask any toilet noise by running the sink water, but she is still inhibited. She fears that Neal can still hear everything. Later at a coffee house, Lily walks out of the restroom relieved. Lily tells Roxanne that she was right; there are just some things she doesn't want Neal to see or hear. Whitney arrives and tells the girls that she caught Alex "you-know-what-sturbating." Roxanne emphasizes her point that this is what happens when you live with someone. "You see everything that you can never unsee."
Whitney arrives home but knocks on the door before entering. She wants to make sure she's not interrupting Alex's "alone time." Whitney reveals to him that she told her friends about the earlier incident. Alex is livid. Having a relationship means keeping certain things private, he tells Whitney, adding that she broke the trust between them. Whitney responds, "Now I feel bad that I told your mom."
At a housewarming party for Lily and Neal, Roxanne gives Lily a key to her apartment. It's so she can use a bathroom away from Neal - just until she's comfortable. Alex walks in and an immediate and awkward silence hits the group. Mark tries to help. It doesn't matter if Alex was caught, he says, everyone does it. Mark ceremoniously stands and affirms to the group that he masturbates. He waits for others to admit they do as well, but no one says a peep.
Whitney enters and wants to set things right with Alex by sharing a box of her most private items with the entire group. They read embarrassing passages from her diary and watch a DVD of a drunken Whitney exposing herself. Alex appreciates Whitney showing their friends her embarrassing moments but tells her she's missing the point. Some things should just be between the two of them. Whitney pulls Alex aside and hands him a special diary - one that's just for him. Alex is touched. He decides to tell Whitney the passcode for his phone: it's the date they met. He hands Whitney the phone to try it, but she back away; she doesn't remember the date! Mark steps up and announces, "7-11-8." He remembers the date because it was the night he lost rock/paper/scissors to Alex. Reflecting back, Mark tells Whitney, "If I had thrown rock, you could've walked in on me 'interrogating' myself."