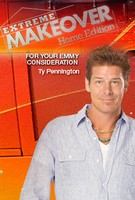 TV Info
---
Episode Premiere
January 16, 2011

Distributor
ABC

Genre
Reality

Show Period
2004 - Now

Production Company
Endemol Ent., Lock and Key Prod., ABC, Greengrass


Cast and Crew
---
Main Cast
Ty Pennington
Paul DiMeo
Paige Hemmis
Michael Moloney
Ed Sanders
Tracy Hutson
Tanya McQueen
Eduardo Xol
John Littlefield
Rib Hillis
Synopsis
---
Ty and the team head south to Savannah where the Simpson family is in dire need of a brand new home. Carmen and Jim Simpson have three beautiful kids. Their son, Isaac, is eight. Daughter, Katelyn, is four. Youngest son, Zoe, is two.
Zoe has had a slew of medical problems from the moment he was born. He wasn't even supposed to live. Thankfully, Zoe didn't know that. His heart never even skipped a beat when doctors took him off the respirator. He was called the Miracle Baby! And even though Zoe is an incredible boy, he still needs a lot of assistance. His family needs help in the form of a new home. Well, help is on the way!
Celebrity chef Paula Deen helps surprise the family at her southern-style restaurant. Carmen has to pinch Ty to make sure he's real. Well, Ty's the real deal and the family home is a real mess. Tracy takes on skateboarder Isaac's room while Paul tries to give Katelyn a place a princess would love. Ed knows the home needs space for Zoe to maximize his potential and, hopefully, walk across the new floor someday soon. And whenever the family wants to go for a ride, they'll be able to do so in their new 2011 Ford Explorer!
Georgia-born Ty takes Tracy on a tour of Savannah to show her the kind of home he hopes to build. Later, Paula Deen pops by to give her thoughts on the tiles that should adorn the ceiling. Paul and Ed take a ride on steamboat to get some ideas for Zoe's therapy room. The plan for Zoe's bedroom is to make it as loud and brightly-colored as possible. Finally, skateboarding legends Shaun and Jesse White stop by to lend their expertise for Isaac's room. Let's roll!
The Simpson family has a "wish list" of things they'd like to do for other people. The team makes a few of those wishes come true. They provide an engagement ring for a friend so that he can finally propose to the love of his life. She says yes! There's also a huge food and clothing drive to benefit those who need help in Savannah. When the family returns from a Disney cruise, it's time to MOVE THAT BUS!
Here's a breakdown of the new home:

- The beautiful Victorian-style home has a terrific front porch that's perfect for southern nights outside. They'll be stress-free evenings now that the family's been told their mortgage is paid in full.

- The inside area is huge, spacious and beautiful with a keyhole entryway.

- Paula Deen and her hubby helped out in the kitchen providing some vintage ceiling tiles.

- Isaac's room is a high-tech marvel with a video chair in the center. Shaun and Jesse White provide a custom-built entertainment center. Isaac used to sleep on the sofa. Now, he has a brand new bed that folds down from the wall.

- Zoe's room is loaded with color to help with his visual stimulation. There's a flat, giant, lighted piano keyboard he can crawl across as he press the keys.

- Katelyn's bed looks just like Cinderella's carriage. Paul did a great job building a princess tower. Katelyn climbs to the top to find a full wardrobe of her very own princess dresses.

- Ty went into town with Ed to custom screen-print all the patterns seen in the master bedroom. One wall holds an oversized copy of the Simpson wish list. They can easily check things off whenever a wish comes true.

- CVS helped fund the incredible steamboat-themed therapy room for Zoe. There's a walker Zoe can use to cruise around his new pad. They also provide a medical fund of $25,000 and a personal elevator.
Jim says he's inspired by his two-year-old son. Well, this entire family is an inspiration to us all. Welcome home, Simpson family. Welcome home.