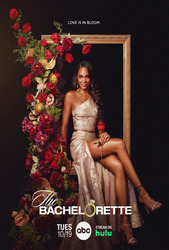 TV Info
---
Episode Premiere
June 25, 2012

Distributor
ABC

Genre
Reality, Romance

Show Period
2003 - now

Production Company
Next Entertainment, Telepictures Productions


Synopsis
---
Emily and her men are in the romantic city of Prague. Next week is the hometown visits, so two of the six remaining fellows are not going to have the chance to introduce the Bachelorette to their families.
The Secret's Out
Arie scores the first one-on-one date. He hits the streets of Prague with Emily, who knows this guy is hiding a secret from her. Years ago, Arie briefly dated a producer of the show. Emily presses him about honesty during a discussion. Arie has no idea about what she's truly driving at. Off-camera, the three people involved in this situation all agree that the relationship between Arie and the producer have absolutely no bearing on what's happening right now. Arie even gets up the courage to tell Emily that he loves her.
Lock It Up
The second one-on-one date goes to John, who knows this is "make it or break it" time. He and Emily come across a place known as the John Lennon Wall. It's a tribute to music, which was once banned in the city. They then come to a place where people bring their locks to fasten to a fence to solidify their love. Emily believes the fact that John can't fasten his lock right away isn't a good sign.
They have dinner in a dungeon that doesn't seem so scary once they reach their candlelit table. John tells Emily that his old girlfriend cheated on him a week after their one year anniversary. This explains why he takes things a little bit slower than most. Emily understands how getting your heart broken can do that to a person.
Running to Love
Sean, Doug and Chris are picked for the group date. John returns shortly after this revelation to tell the guys how well his date went. This upsets an already on-edge Chris. Sean doesn't want this to happen to him, so he runs through the streets of Prague shouting Emily's name. He eventually tracks her down for some alone time. It's a very pleasant surprise for Emily. They share lots of hugs and kisses. Sean now feels much better going into the group date. Chris... not so much.
Queen of the Castle
Emily and the three men she picked for the group date head off on horse-drawn carriage ride to a 13th century castle. Emily is immediately concerned by the fact that Doug doesn't seem to want to get close to her even though he finally gives her a kiss. Emily lets Doug know that she doesn't feel like he's fighting hard enough for her. That's why she thinks it's time to send this great guy home.
Emily gives the two remaining group date guys a key. It determines who gets the first one-on-one chat. Sean wins the honor. They have a nice little chat and kiss. As for Chris, he lets Em know that he's extremely upset that he didn't get a one-on-one date this week. He calms down long enough to share a kiss with her, too. But at the end of the day, Sean gets the rose. Needless to say, Chris is ticked.
Pulling Some Strings
Jef gets the last one-on-one date which involves a trip to a marionette shop. This reaffirms Emily's belief that he's more than ready to be a dad. That's because he's like a big kid himself. Emily loves that Jef went back into the marionette shop to get a doll for Ricki. The two of them later use their marionettes to reenact the times they've spent together. This leads to a kiss between the two puppets and the two people pulling their strings. Later, Emily gets a little nervous when Jef tells her that he once broke up with a girl because his parents didn't like her. That's troubling news heading into hometown dates.
The Rose Ceremony
Emily has a chat with Chris Harrison to let him know that some of her relationships have been confirmed. That's why she doesn't want to put the guys through the ordeal of a cocktail party. That's bad news for Chris, who was hoping to talk to her about his reaction after the group date. He's a nervous wreck.
With Sean already safe from the group date, Emily gives a rose to Jef first. Arie is the next to get one. With one rose remaining, Chris feels compelled to interrupt the ceremony to have a chat with Emily. He apologizes for not being more respectful before. He really believes in him and her. Emily lets Chris know how much she appreciates this before heading back into the ceremony to give him the final rose. That means John is headed out the door.
The men who will be introducing Emily to their families are:
Arie
Chris
Jef
Sean
Bring on the hometown dates!