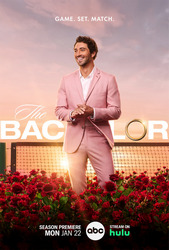 TV Info
---
Episode Premiere
March 01, 2010

Distributor
ABC

Genre
Reality, Romance

Show Period
2002 - now

Production Company
Next Entertainment, Warner Horizon Television


Synopsis
---
Jake's family joins him in Santa Lucia to meet his final two women. After they meet Tenley, whom they completely love, they can't imagine how he could choose anyone else. Jake's made the mistake of telling his family about how all the girls hated Vienna, so when they meet her, it doesn't go well. Jake's mom sees a "red flag" with Vienna and Jake is upset that no one likes her. But Vienna manages to win them over. "I can't see leaving without him," she tells his mom, who we're shocked to hear say, "You've changed my mind."
On his last day with Vienna, Jake is determined to make sure that they've got more than just "smoking hot chemistry." To show him how serious she is, Vienna gives him a ring that her father gave her with a note that reads, "I'm ready to take off this ring and give you my heart." The camera fades out as Jake says he just wants to fall asleep in her arms again.
The next day with Tenley, we cringe when he admits to being tired. And that he's not sure about their physical chemistry. Tenley is badly shaken, saying, "I'm not at all confident Jake will pick me." That night Jake apologizes for hurting her feelings and she vows, "I'm going to prove to Jake that our chemistry is real in every single way."
The next day, jeweler Neil Lane shows up with rings for Jake to choose from, but he hasn't decided which girl he'll be proposing to yet! Neil leaves two rings -- one that's right for each -- to help him decide.
The women prepare for the final rose ceremony: Vienna insists, "I don't want a rose at the end, I want a ring," and Tenley says, "I'm willing to take the risk of having my heart broken to see if Jake's the one." As he waits at picturesque Jade Mountain, Jake prepares to tell one woman goodbye. "This is so much harder than I ever imagined," he says. "I don't know how I'm going to find the sheer courage to break someone's heart."
A helicopter arrives with the first woman and our heart falls for Tenley when we see it's her. "I really believe he'll get down on one knee and ask me to be his wife," she says in voiceover as she walks towards Jake. He tells her he's had an amazing time with her. Her face falls when he starts to tear up. "I do love you," he says brokenly, "You're just perfect," but that something with her "just doesn't feel right." Oh, poor Tenley! She tells him she appreciates his honesty and for making her feel special. And then she's the one to comfort him!
As he leads her out, he stops and says, "God, I'm never going to forget you."
"Then why are you saying goodbye?" she sobs.
He admits, "There's some part of this that is not coming naturally, that I had to force."
She tells him, "I don't want to be that person to hold you back. I loved falling in love with you and I love feeling alive again. Thank you for giving that to me."
In the limo, Tenley wipes away her tears, but says she needs a man who "can can love me for every piece of me." Her only bitter words are, "Jake will see the mistake that he made and I feel bad for him. I don't think he knows what he wants."
As Jake waits for Vienna, we hear his thoughts: "For 31 years I have dreamt of a moment like this. I can't believe it's ending like this, but I know what's in my heart and I know what I'm doing is right."
When Vienna arrives, Jake tells her she looks amazing. He gives her a scare when he insists on returning the ring she gave him. She starts to cry, but he quickly drops down to one knee to offer her his ring. "I love you with everything that I am," he says, asking, "Vienna, will you marry me? 'Oh my god," she beams. "Yes, yes!" He slips the ring on her finger and then kisses it. "I'm so happy now," she says and we see a montage of them together as the song "On the Wings of Love" plays. But Jake has one more gift for her: The final rose, which, of course, she happily accepts.