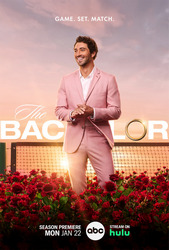 TV Info
---
Episode Premiere
February 15, 2010

Distributor
ABC

Genre
Reality, Romance

Show Period
2002 - now

Production Company
Next Entertainment, Warner Horizon Television


Cast and Crew
---
Main Cast
Chris Harrison
Chris Soules
Synopsis
---
Jake whisks the remaining three women -- Gia, Tenley and Vienna -- to beautiful St. Lucia. His first day is spent with Gia. During a romantic dinner on the beach, he tells her, "Nobody else exists right now." She's been waiting for the right moment to tell him she's falling for him, but she's scared to get hurt again. Gia toasts Jake for "knowing exactly what you want. And to it being me!" She happily accepts the Fantasy Suite invitation, saying to the camera, "I ready to go all the way." Inside the suite, they take a bubble bath surrounded by candles and rose petals. Jake's assessment: "Gia has grabbed hold of my heart so hard. I can honestly say that Gia could be the woman that I propose to."
He spends the next day with Tenley. He takes her flying in a helicopter and they have a picnic in the beautiful rain forest. She tells him, "I love every little thing about you. I can see us being really happy." He tells her if he chooses her, he'll stick to his commitment (unlike her ex!) He says he's the kind of guy who, "Twenty years into it, I will still have that little boy crush on my wife."
They share a romantic dinner and Tenley tells him, "You've had such a big piece in making my heart smile and be so joyful. I'm really falling in love with you." He tells her how much he loved the dance she did for him in her hometown, so he asks her to dance. Tenley says in voiceover, "I knew that I wanted to dance with him forever." She says yes to the Fantasy Suite, but tells him, "I wouldn't let just anybody bring me to a room like this." He tells her how much he loves her values and morals.
The next day, he spends with Vienna aboard a pirate ship! We don't need Jake to tells us in voiceover about their "natural chemistry." We can see it for ourselves! They fire cannons, climb the mast and kiss in the crow's nest. They even jump off the plank together! "It's so much fun being with a real adventurous, fearless woman," Jake says. He knows the physical attraction is there, but he wants to make sure there's more to their relationship than that.
Over dinner, she tells him that she's "absolutely" ready to be married. She looks like the frontrunner when he asks her what kind of ring she'd like. She asks if he can see her as his wife, and he answers, "Yes. You wouldn't be here if I couldn't." She decides to tell him how she feels, "I can't picture not being with you. I have fallen in love with you." He takes her head in his hands and kisses her. He can't say "I love you," in return, but he does say, "I love that you told me that." Inside the Fantasy Suite, she surprises him with a sexy, silky slip. "I felt like the luckiest guy in the world," says Jake. "She is so sexy."
The next day, Jake is not at all prepared to hear from Ali! She calls to tell him she made the wrong choice. "I want to come back," she begs. Although Jake shares that "you drove away with a piece of my heart," that night, he's grown too close to the other women to take her back now. "It hurts me like crazy but I don't think it's a good idea." She tells him, "I will forever regret this decision," as it sinks in that it really is too late to go back.
Jake tells Chris about Ali's phone call: "I don't think that the girl for me would have left." He watches video messages from all three women and then it's time to hand out just two roses. Tenley gets the first rose, and she looks shocked when Vienna gets the second one. Gia tells Tenley, "I'm happy for you both," and hugs her goodbye. Jake tells Gia that his feelings for the other women were "a little bit stronger" and that he thinks she's amazing. She tells him, "I understand," and that she thinks both remanining women are great. "I don't think you made a wrong decision," she tells him, but in the limo, she says, "I'm really disappointed. This is a real shock. I actually did fall in love."