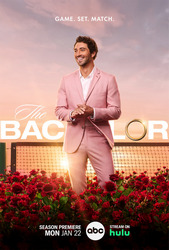 TV Info
---
Episode Premiere
February 08, 2010

Distributor
ABC

Genre
Reality, Romance

Show Period
2002 - now

Production Company
Next Entertainment, Warner Horizon Television


Cast and Crew
---
Main Cast
Ben Higgins
Chris Harrison
Chris Soules as Himself - The Bachelor
Synopsis
---
First up on the hometown dates is Gia in New York City, where he gives him a boat tour of the city skyline. She relates that she's bad luck with boyfriends: One cheated with all her friends, the other got into awful fights. Her family is extra protective, given her past heartbreaks. Gia's brother tells her that Jake "seems okay" but advises her to "watch out." "I just want it to work so bad," Gia says.
Next is Ali in Williamstown, Massachusetts. "I get two hometowns with you, that kind of puts you ahead," Jake tells her, since he also got to see her in San Francisco. Ali enthuses, "You are everything that I've ever dreamt that i would find in somebody. If you ask me today, I would say yes." Jake gives her a big kiss. She calls their romance, "out of a movie, like a fairy tale. I never thought i would get everything I ever wanted," she says to the camera.
"This absolutely could be the girl," Jake says after the visit.
Next, Jake meets Tenley's parents in Oregon. He's the first guy she's brought home since her divorce. He wants to make sure Tenley is over her ex-husband. Her mom tells him, "As far as being ready, if anybody could be, it's Tenley." Privately, she says "I could see Tenley and Jake together forever." Then Jake asks her father for her hand in marriage! We haven't seen him do with with Gia or Ali's families! Her father grants his permission. Looks like Tenley's in the lead!
But there still his visit with Vienna, in Florida. Vienna tells him that this time she's taking marriage seriously and that she wants her dad's blessing. We can see it's true when Vienna says, "I'm a daddy's girl." Her dad drills Jake to find out if he's "good enough" for Vienna. "I've always treated her like a princess, that's how I expect you to treat her." Jake promises Vienna will feel like royalty if she ends up with him and her dad says, "I've got a good feeling about you." Jake and Vienna have a pretty intense private make-out session before Jake leaves.
Back in LA on the day of the rose ceremony, Ali lays a bombshell on Jake: "I just found out that I have to choose between staying here and going back to work." He wants her to stay but he can't promise that she'll end up with a ring on her finger. In the end, Ali tells him, "I have to go, I'm so, so sorry." Jake leads her outside to a waiting limo and wow, we feel so awful for both of them. "I don't know if i made the right choice," she sobs as the limo pulls away.
"It hurts like crazy that Ali's gone," Jake says. "I didn't expect to come all this way to get my heart broken again." He considers giving up, but since he still has three women waiting for him, he gathers himself and goes back inside. The women smile happily when told that Ali has left.
Meanwhile, in the limo, Ali still isn't sure she's done the right thing: "What did I do? how could I have left him?"