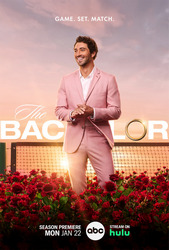 TV Info
---
Episode Premiere
January 25, 2010

Distributor
ABC

Genre
Reality, Romance

Show Period
2002 - now

Production Company
Next Entertainment, Warner Horizon Television


Cast and Crew
---
Main Cast
Ben Higgins
Chris Harrison
Chris Soules as Himself - The Bachelor
Synopsis
---
The women climb aboard two RVs for a road trip up the California coast. The "we hate Vienna club," headed by Tenley and Ali, is happy not to share an RV with her, and the feeling is mutual.
The women meet Jake at a winery, where Gia gets the first one-on-one date. Vienna predicts that the New Yorker will be out of her element on a camping date. Jake and she play hide and seek in the vineyard (despite Gia being in high heels). After swapping first-kiss stories, they play spin-the-bottle with, which leads to their first kiss, Gia declares it "the best kiss of my life." Sparks fly -- literally -- around the campfire and he gives her a rose.
The card for the next group date arrives. The only two names that aren't on it: Ella and Kathryn, who will be going on the dreaded two-on-one date, with only one rose.
Ali is "struggling with the fact" that Vienna's still here and says she'll "throw up" if Vienna gets a rose on their group date. After a day of dirty sand buggying, the women arrive at the Madonna Inn, where they love the crazy decor and the chance to clean up for Jake after days in an RV.
Ashleigh drapes herself over Jake in their alone time, but he's just not feeling the chemistry. He definitely feels more comfortable with Tenley, as he has his head in her lap before they kiss.
Vienna asks for the last one-on-one: "I want to be the last girl he kisses before he goes to bed." He advises her to watch what she says to the other women as he's seen she acts differently when they're around. Instead of taking his advice, she changes the subject. He admits to the camera that he's been "pumping the brakes" with her because of what the other girls are saying: "I've seen a couple of red flags and I'm a little concerned." Jake gives the rose to Tenley.
On the two-on-one date, we're shocked when Jake sends both Ella and Kathryn home! Ella takes it well, advising him to make wise choices but Kathryn, who's totally blindsided, tells him, "I think you're making a mistake." A downcast Jake throws the unused rose into the fire.
The RVs pull up to a mansion for the rose ceremony, where Jake prepares to send one more woman home. During the cocktail party, Jessie tells him, "I really feel that Vienna is not the one for you." She calls her "self-centered" and "spoiled," citing how Vienna bragged about how her daddy paid for all the cars she's crashed. Vienna, without knowing what Jessie's said, hopes he won't judge her on what other people say.
It's time for the rose ceremony: Gia and Tenley already have roses and Jake has four more to hand out. He hands out the first two to Ali and Corrie and then he stops! He tells the now very nervous Vienna, Jessie, and Ashleigh that he needs a minute! Jake finds Chris Harrison to ask if he has to give out both roses. Chris tells the women that he's taking one rose away and now two of them will be going home.
After a lengthy pause, Jake gives the final rose to Vienna, which means that Ashleigh and Jessie are leaving. He tells Jessie that he appreciates the advice she gave him, but we can't help but notice that he's kept Vienna and sent Jessie home! "I can't believe it, why Vienna?" she asks. Ali, meanwhile, is asking the exact same question, in earshot of Vienna, demanding, "Why is she still here?"
"If he can't see what kind of person Vienna is, I pity him," Ashleigh says bitterly in her exit interview. "There's a reason she has no friends in the house."
We know there's more Vienna drama to come next week, when Jake takes the five remaining women to San Francisco.