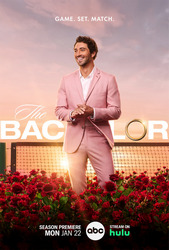 TV Info
---
Episode Premiere
January 18, 2010

Distributor
ABC

Genre
Reality, Romance

Show Period
2002 - now

Production Company
Next Entertainment, Warner Horizon Television


Cast and Crew
---
Main Cast
Ben Higgins
Chris Harrison
Chris Soules as Himself - The Bachelor
Synopsis
---
There's more drama this week as the women bond in their dislike of Vienna and Jake decides to send one woman home without even waiting for a rose ceremony!
After a one-on-one date with Vienna in which they bungee jump off a bridge, Vienna is on cloud nine but the other women are tired of hearing her go on and on about the date. The other women's hatred of Vienna comes out at a comedy club group date, where Corrie's standup routine is mostly poking fun at Vienna for talking about everyone behind their back. And that's just the start! Ali and Ashleigh both tell Jake that they think Vienna is a problem.
Of course, Vienna isn't the only one causing drama. Michelle continues to insist that she's the only one who's there to find love and takes offense when Ali suggests she lighten up a little and actually enjoy her time away from Jake. As if! Michelle, alas, won't take a hint. When she finally gets alone time with Jake, she demands a kiss (which we can see he's reluctant to give) and then complains, "Is that it?" We're so with him when he tells her he wishes the night were over already. He's tired of her threatening to leave, so when he calls her bluff and asks her to leave, right now, we're practically cheering. He ushers her downstairs and into a cab and that's the end of Crazy Michelle! Whew! Jake is so drained from the experience, he decides not to give out a rose tonight.
The next one-on-one is with Ella. Jake whisks her to Sea World to celebrate her birthday, which was a few days before. And he has an even bigger surprise for her. We go "awwww!" when her 7-year-old son shows up out of the blue. What a sweet gesture! Ella is thrilled to see her son and pleased with how Jake interacts with him. At the end of the day, her son goes back home and Ella and Jake have a romantic dinner. He asks how she'd feel about being engaged at the end of this, she says, "absolutely." He gives her a rose and a very sweet kiss.
Meanwhile, Vienna tries to apologize to the other women, but Ali isn't having any of it and discloses that she felt the need to tell Jake about her. Ouch! Ali continues to get on Vienna's case at the cocktail party when Vienna, who has a rose, takes Jake away from Elizabeth, who doesn't. Vienna tells Jake the other girls don't like her because she is "just being honest." We're with Jake, meanwhile, in being thoroughly confused by Elizabeth's mixed signals. First she tells him she doesn't want to kiss unless she's the last girl standing. Then she says she really wants to kiss him. She's in tears after Vienna's interruption because she left with Jake thinking she's a "tease." She gets more time alone with Jake, but Jake's made up his mind already. When the roses are handed out, Elizabeth doesn't get one. She asks Jake, "What happened?" "I just had to go with my heart," he tells her. "I should have kissed you," she suggests and he tells her that's not the issue. She gives him a big hug goodbye, but admits she's upset and disappointed, because she was sure "we were advancing as a couple."
The other women receiving roses:

Gia
Corrie
Tenley
Ali
Jessie
Kathryn
Ashleigh
Which means that Valishia (who we barely saw this episode) is also going home. And that the Ali vs. Vienna feud will continue for at least another week.v