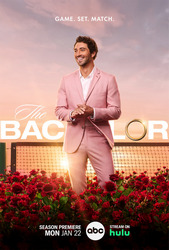 TV Info
---
Episode Premiere
January 11, 2010

Distributor
ABC

Genre
Reality, Romance

Show Period
2002 - now

Production Company
Next Entertainment, Warner Horizon Television


Cast and Crew
---
Main Cast
Ben Higgins
Chris Harrison
Chris Soules as Himself - The Bachelor
Synopsis
---
The first group date is a photo shoot with Jake, where the presence of busty model Rozlyn makes Christina self-conscious. At the "wrap party" afterward, Ashleigh is the first to change into her bikini, but it's Rozlyn who gets the rose -- and a kiss. Jake considers her, "Really mysterious. Definitely out of my comfort zone." "Now that I know I'm not going home, my strategy is to be myself," Rozlyn says, adding, "things could get messy" during the competition. Gia opines, "She would do anything for a rose." As for Christina, Jake finds her "amusing" but adds, 'I wish she hadn't had quite so much to drink." Oops.
Back at the house, the women scream when a dazzling diamond necklace arrives for the girl who's going on the one-on-one date. Michelle tries the necklace on -- thinking that might win her the date -- but Ali is the one who's treated to a solo plane ride with Jake, a romantic dinner, a private concert from Chicago and a rose! Michelle, meanwhile decides if she can't get a date with Jake she's going to pack her bags and go home! But Christina talks her into staying.
On the second group date, Jake takes the women for a fun-filled day at Magic Mountain. Elizabeth reads him a long note about why she's "withholding" kisses until she's the last girl, which Jake respects. Vienna tells him her big secret, that she had a brief marriage when she was only 17. Despite Vienna's tearful admission, Jake gives the rose to Elizabeth because she "really intrigues" him.
The next cocktail party is humming along when host Chris summons Rozlyn outside. We hold our breath for her reaction when he tells her, "This is something we've never had to deal with in the history of this show. It's very awkward." She pretends to have no idea what he's talking about, so he spells it out: "You entered into an inappropriate relationship with one of our staffers." He tells her, "out of respect for everybody here," it's best if she goes home. Tonight. She doesn't defend herself, besides saying, "I don't think my personal life is anybody's business." When he asks her go pack her things, she doesn't argue. She tells the other women, "I'm leaving," sending shock waves throughout the room. "What happened?" everyone asks. No one has a clue what's going on.
Neither does Jake, when Chris tells him that something "serious" has happened regarding Rozlyn. "Don't tell me she's gone," Jake says. He's stunned to hear why. We can't blame he when he asks, "Can I get my rose back?"Jake asks to be there when Chris tell the women what's happened. Their jaws drop and some begin to cry when Chris explains why Rozlyn is gone. Jake chokes up as he tells them he feels "deceived" and asks if anyone else feels that he's not the right one for them, "You don't have to wait for a rose ceremony." Michelle, who had been very close to leaving herself, is the first to speak out and say she is there for him and doesn't want to leave.
After taking a moment to collect his thoughts, Jake gives out the remaining 10 roses to:
Vienna

Gia

Tenley

Ella

Valishia

Corrie

Jessie

Ashleigh H.

Michelle

Kathryn


Which means that Ashley E. and Christina are going home. "I'm not sure what went wrong," says Ashley, but wants Jake to find his Ms. Right. "I'm disappointed," Christina says. "I absolutely came here to find love." She starts to cry as she hears the other women laughing inside.
Jake thanks the women for "hanging in there with me." We're left wondering what happens next week when it looks like Jake sends another woman packing without benefit of a rose ceremony!