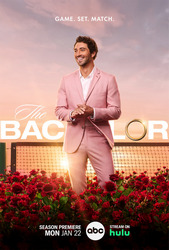 TV Info
---
Episode Premiere
January 04, 2010

Distributor
ABC

Genre
Reality, Romance

Show Period
2002 - now

Production Company
Next Entertainment, Warner Horizon Television


Cast and Crew
---
Main Cast
Ben Higgins
Chris Harrison
Chris Soules as Himself - The Bachelor
Synopsis
---
Bachelor Jake Pavelka is determined to prove that nice guys don't finish last. He's got his choice of 25 beautiful women, many of whom go to ridiculous lengths to get his attention on the first night.
Jessie feels his arms and asks, "Do you have a registry for those guns?" Cheesy! Christina is so confident that she'll win, she's brought a consolation prize of candy for the other girls! Ashley E. changes into a flight attendant uniform, which Jake considers "dynamite," but the other women call "desperate." Kathryn is wearing a fake engagement ring but hands it to Jake, saying, "I don't want to pretend anymore, I want something real." Vienna, who describes herself as "loud," shows Jake a bump on her leg and asks him to kiss it, and we can't believe he does!
Elizabeth brings out a football to test Jake's arm and soon all the women have kicked off their heels and are trying to tackle him. It's blondes vs. brunettes and Jake is loving it.
We're a little concerned about Michelle, who is near tears about not getting any alone time with Jake. Vienna gripes, "This girl's having a mental breakdown and we've only been here an hour." When she finally gets Jake alone, Michelle scares us a little with her intensity when she tells him, "I am here to meet you and to fall in love with you."
With so many women to choose from, good thing that Ed and Jillian show up to help narrow down the field! Ed thinks Elizabeth should get the first rose, while Jillian votes for single mom Ella. Jake, however, decides to give it to Tenley, who gave him his first kiss, a quick peck to "test their chemistry." Before getting that all-important rose, she worried that she was too forward and teared up remembering her ex-husband, the only other man she's ever kissed. "I'm pretty blown away," she says and is happy to "let Jake pursue me now." Oh, Tenley, that's not how the show works!
We're with Ed and Jillian that Jake should probably send Michelle home but it's guaranteed drama when Jake decides to keep her. She's the very last name he reads, so she's close to passing out by then.
Jake also gives roses to:

Elizabeth, Vienna, Christina, Ashley E., Kathryn, Jessie, Ella (who presented him with her son's favorite toy, an airplane), Ali (who'd lost her voice), Gia (a swimsuit model from Manhattan), Rozlyn (who told him her name means "little rose," hint, hint), Corrie (from Kissimmee, FL), Valisha (who brought him "common ground," aka, dirt from Texas), and Ashleigh H. (who literally fell into Jake's arms outside the limo).
Among those going home: Pilot Sheila; Channy, whose comment in Cambodian to Jake that "you can land your airplane on my landing strip any time," was way too forward; and Alexa, who had offered to let Jake drive her Harley.
Tiana sums up how all those going home feel. "I wanted to be his copilot, but now I'm just waving goodbye from the tarmac."