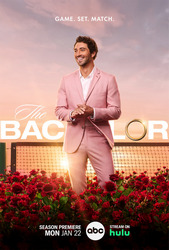 TV Info
---
Episode Premiere
January 05, 2009

Distributor
ABC

Genre
Reality, Romance

Show Period
2002 - now

Production Company
Next Entertainment, Warner Horizon Television


Synopsis
---
Jason Resnick, the single father from Seattle who loved and lost Bachelorette DeAnna Pappas, says, "I'm willing to take the risk. My heart is completely healed and I'm ready to find love again." He's excited to be in Los Angeles with his son, Ty, and to meet 25 Bachelorettes. Jason's been married once, proposed once and been turned down and now believes that "the third time's the charm."
We see him standing at the final rose ceremony, having made his choice saying, 'I've found the woman of my dreams and it's been so worth it."
Among the women are Jillian, a 29-year-old restaurant designer from Canada who says "I work hard and I play hard;" and Dominique from Pennsylvania who admits she's been on a lot of bad dates. Melissa, a former Dallas Cowboys cheerleader, is "ready for everything to turn around for me." Nikki, a one-time Miss Illinois, "can't wait" to have her own kids; Renee, a 36-year-old jewelry designer wants to dispel the myth that women from LA are "flaky;" Stephanie, who was "married to a prince of a guy," who was tragically killed three and a half years ago.
Ty helps his dad pick out a tie to wear on the night he first meets the Bachelorettes. With Host Chris, Jason recalls meeting DeAnna and says, "If I didn't meet her, I might not be sitting here right now."
First out of the limo is Lauren in a low-cut leopard-print dress, who tells him it's her birthday. Next is Kari from Kansas who says, "I really adored you on the last show!" Next is cheerleader Melissa, then Sharon, a teacher from New York, who grabs Jason's hands and starts salsa dancing. Natalie, a blonde from Chicago, reveals that she never watched the show but that her mother and sister talked Jason up to her.
Naomi, a flight attendant, tells Jason she's feeling "Amazing," and he comments that she's the first person out of the second limo, which was his spot the last time around. "We're going to get along fabulously," she declares. Next is Megan, who reveals she's a single mother of a 14-month-old son and then says she didn't mean to bring it up right away. Stacia, a single mom from Utah says, "I'm so excited to be here. You are a gorgeous man!"
Jackie, a wedding coordinator from Dallas, also tells Jason, "You are gorgeous!" Lisa from Idaho admits that she's "totally nervous," and points out that Idaho is very close to Washington. Stephanie gives him a hug and says, "I'm so thrilled to be here, because it's you. I just look forward to getting to know you better." Treasure, introduces herself adding, "No, it's not my stage name." Dark-haired Raquel, from Brazil, tells Jason she speaks three languages. Shelby says that her home town, Stockton, "is really not that great of a place." Jason greets Nikki and tells her she looks amazing. She asks how Ty is and tells Jason she's so glad that he's "our Bachelor." Molly, a department store buyer from Michigan, tells Jason she's a golfer and wants to see his swing. He tells her maybe later.
Erica, an account executive from Connecticut, tells Jason she just came from Seattle, where she caught a flying fish at Pike's Place Market. Nicole, informs Jason she's wearing an orange dress because she remembers Ty saying it was his favorite color. Next is petite Renee, from LA, and then Gillian from Canada, who wants to know what his favorite hot dog toppings are, claiming that will tell her all she needs to know about him.
Dominique giggles as she admits she has butterflies on meeting Jason. Emily, also from Seattle, says she's the biggest Seahawks fan. Julie tells Jason she's a first-grade teacher from Ohio. Ann, a flight attendant from Phoenix says she hears he loves to travel. Shannon, a dental hygienist, arrives with a mouth full of fake teeth and makes Jason laugh.
"Get ready for the night of your life," Chris tells Jason as he goes inside to get to know his 25 Bachelorettes better.
"This is insane!" Jason says on greeting the women, and tells them he knows exactly how they feel. He calls himself, "the luckiest guy in the entire world." Naomi boldly proposes a toast to DeAnna, for not picking Jason. "I'm obsessed with Jason," she confides to the camera.
Jason sits down alone with Shannon, the dental hygienist, who startles him when she admits she's been studying his MySpace page and blurts out, "look at me, I totally sound like a stalker." Dominique tells Jason she sells implants, but not for the chest, but for feet. She wants to check out his feet, but there's no time before Sharon swoops in. She tells him she resigned her job as a high school Spanish teacher to be here. She's sure there's already a "big connection."
Meanwhile, the Bachelorettes find out who among them has children and debate whether that's an advantage. Megan thinks a lot of the women there "don't understand what it's like to be someone's mom."
Kari's written a poem for Jason, about love at first sight. Nicole is sitting on Jason's other side and calls the situation "the most awkward moment of my life."
Gillian grills up some hot dogs to test her topping theory, saying that guys who choose ketchup love their mom, a "sauerkraut" guy is a bad boy and a "mustard" guy is the one you want to take home to meet your mother. When Jason picks mustard, she calls her test, "a true success."
Host Chris arrives with the First Impression Rose and Jason advises the visibly anxious women, "just don't look at the rose." Nikki, the beauty pageant winner, tells him she can't wait to have children and is "already broken in" from sitting her nieces and nephews. Privately, she says she considers Jason having Ty to be a "bonus."
Renee asks Jason if he believes in "the laws of attraction," talks about her vision boards and says, "the universe is listening." Raquel grabs Jason for a dance, and the other women look on jealously. Molly says, "I'm a terrible dancer, but I'll cut in," and Raquel is upset when she steals Jason away for a chat, so she breaks in to take Jason back. He tells her he's glad she came. Jason is very sympathetic to Stephanie's tale of how she's raised her daughter alone, after her husband died.
Jason offers his jacket to Lauren, who says she teaches government to 12-year-olds and then quizzes him on the three branches of government. He remembers that it's her birthday and goes to get a surprise for her: She's expecting a rose, but he brings her a cream puff with a candle.
Chris announces that there's "something different in store" tonight and that for the first time, the Bachelorettes have a vote. Chris tells them, "the woman with the most votes will be leaving tonight." Jason is uncomfortable, but says that the women's' opinion is important to him. The women discuss how they'll be choosing: one says she'll pick the one who just isn't right for Jason, but others aim to eliminate their biggest competition. Renee is shocked how freely Jackie, the wedding coordinator, talks about her past relationships, so she puts Jackie's name in the box. Lisa votes against Megan, saying that if it were her, she couldn't leave a 14-month-old at home. Jason, however, feels a "definite" connection to Megan. He grabs Nikki, whom he calls "absolutely stunning," and gives her the rose and she's completely surprised.
Chris announces that it's time for the Rose Ceremony, but first it's time to find out which women received the most votes. In third and second place, respectively, are Jackie and Erica, but receiving, "by far," the most votes Megan, who is visibly shocked. What the other women don't know is that she's leaving ... with a rose. Lauren isn't thrilled that Megan will still be there, as she has been cursing out all the other contestants. Megan cries over having received the most votes, and isn't even sure if Jason wants her to stay.
In the Deliberation Room, Jason has to decide which women keep and which send home. He's basing his decision on whether there's a connection and not on who has children or who left their job to be here. Jason says he would have given Megan a rose, regardless, but admits the fact that the other women don't like her carries some weight.
It's time for Jason to hand out the remaining roses and he gives them to:
Lauren
Kari
Naomi
Natalie
Molly
Raquel
Stephanie
Melissa
Jillian
Shannon
Lisa
Sharon
Erica
Which means that Ann, Dominique, Emily, Jackie, Julie, Nicole, Renee, Shelby, Stacia and Treasure are going home. Stacia admits she's "really disappointed." Renee thinks that her vision boards are still valid, but that she must just be in the middle of one instead of at the end. Jackie feels like Jason "really missed out," and admits she'd already planned her wedding to Jason "ten times."
Inside, Jason toasts to his 15 Bachelorettes.