The 38-year-old reality TV star suffers an unfortunate nip-slip and reveals her heart-shaped pasties in her plunging LBD when stepping out for a dinner date with sister Kendall Jenner.
Kourtney Kardashian
is no stranger to wearing revealing outfits and sharing scantily-clad social media snaps. But the oldest Kardashian-Jenner sister might reveal more than she intended to as she suffered an unfortunate nip-slip when she stepped out for a dinner date with half-sister
Kendall Jenner
in Los Angeles on Sunday, February 18.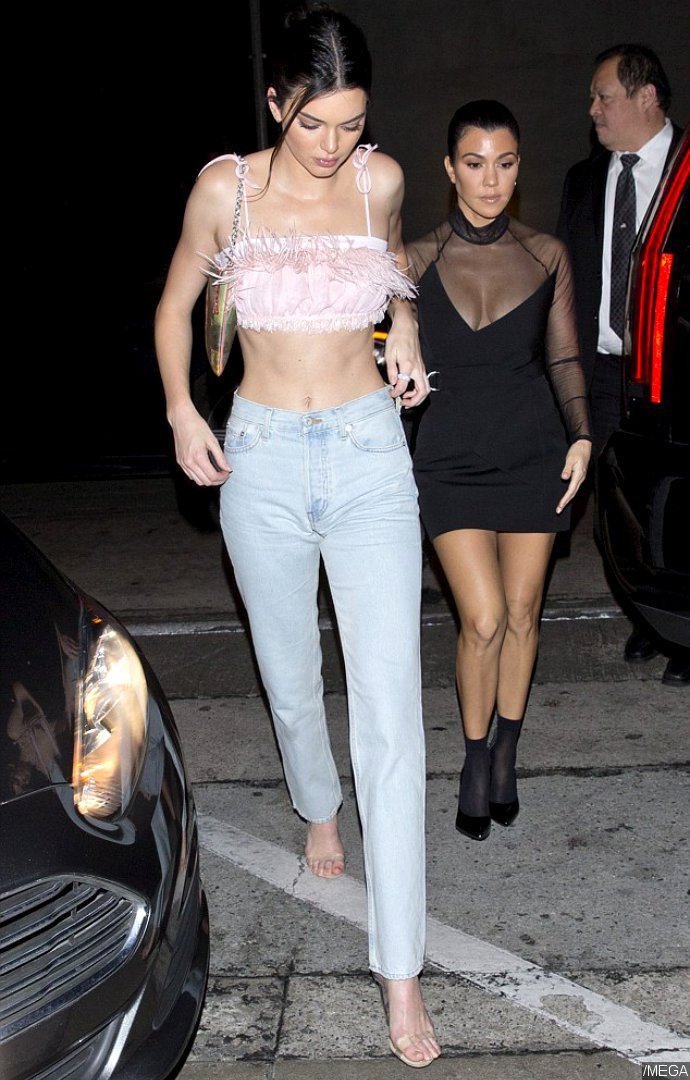 In front of a hoard of paparazzi, Kourt made her way to celeb hot spot Craig's as she held hands with her model sister. It turned out that the mom of three went braless under her see-through top which she teamed with a strapless dress. Not only did she accidentally expose her chest when the top of her LBD slipped down, but photographer also captured the entire embarrassing fashion fail on cameras.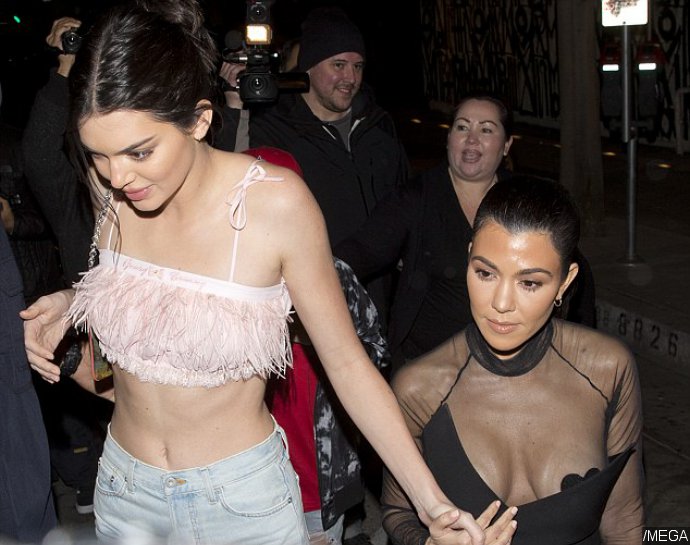 The jaw-dropping display came on the heels of Kourt revealing how much she weighs. In a deleted scene from the Sunday, February 18 episode of her family show "
Keeping Up with the Kardashians
", the 38-year-old mom of three dished that her weight's significantly close to that of her 8-year-old son Mason.
In the clip, the conversation came up as the eldest Kardashian sibling was catching up with her sister
Khloe Kardashian
. Along with their friend Simon Gebrelul, the sisters hung out in Khloe's kitchen where they made salad. Kourt detailed a run that was so hot she was "scared" she was going to melt, before Khloe turned to Gebrelul to tell him, "You know she's 97 [pounds]?"
Kourt jumped at the opportunity to correct her sister, "Guess what? I gained a pound. I'm 98 [pounds] since yesterday to today." The girlfriend of
Younes Bendjima
added, "You know Mason is 62 [pounds]?" noting that her first born child is only 36 pounds away from weighing the same as her.
Back in April 2015, Kourt, who was still together with
Scott Disick
at the time, revealed via social media that through diet and exercise, she was down to 116 pounds, less than five months after giving birth to her third child, son Reign, on December 14, 2014. "I'm five feet tall, so everyone relax," she said at the time. "I'm on a workout kick, trying to bring some Monday motivation."
The brunette beauty explained in 2017 that one of her dietary keys was avoiding the sweet stuff. "I always try to avoid sugar - especially refined sugar - for so many reasons," she said. "First, sugar is addictive and I notice that after I eat it, I need it." She added, "Sugar doesn't sustain you when you actually need energy, like for a workout. Also, when I eat sugar, I find that more cellulite appears."