The 'Sin City' actress shares a picture of her breastfeeding her nearly two-month-old son Hayes in a Target dressing room during a shopping trip.
Jessica Alba
doesn't let anything stop her from doing her mommy duty. The 36-year-old star breastfed her nearly two-month-old son Hayes in a Target dressing room during a shopping trip on Friday, February 16.
The "Dark Angel" alum took to her Instagram account to share a snap of her breastfeeding her baby inside a dressing room. Using a cute puppy filter, she pointed out her "tired eyes." She wrote on the photo, "Breastfeeding in a @target dressing room."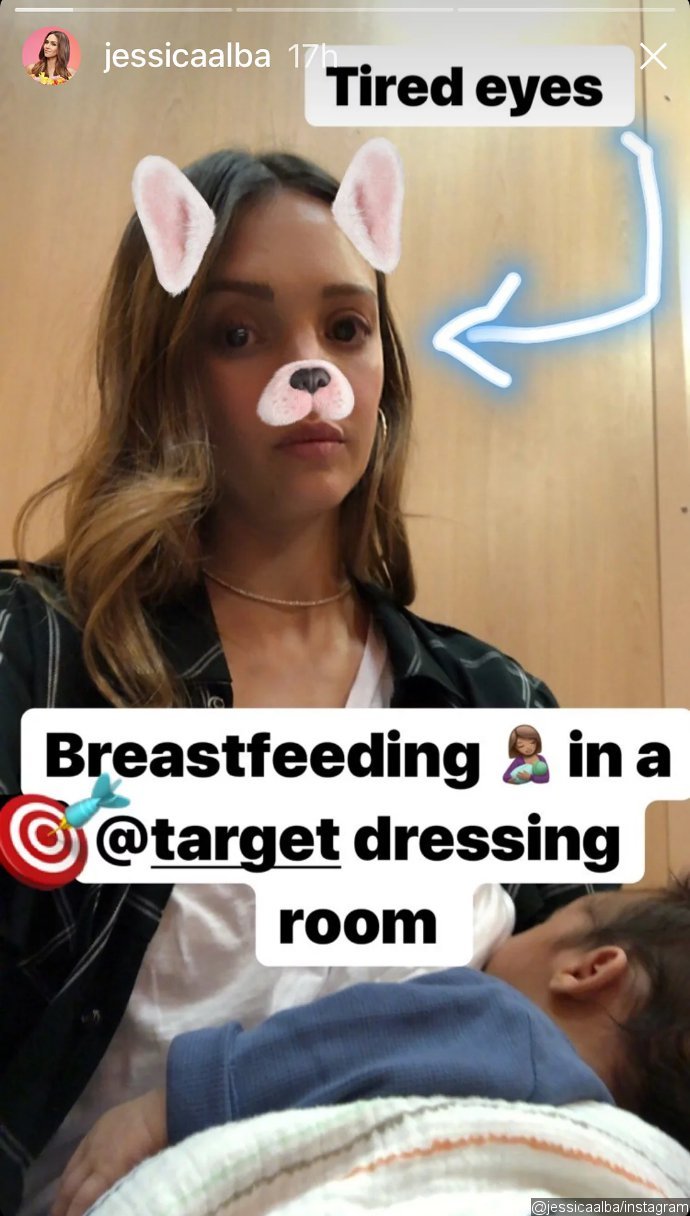 The "
Machete
" star gave birth to Hayes Alba Warren, her third child with husband Cash Warren, on New Year's Eve. They are also parents to 9-year-old Honor Marie Warren and 6-year-old Haven Garner Warren.
Jessica, who is still on maternity leave, recently admitted it's hard for her to completely stop working. The co-founder of The Honest Company stops by the company's office from time to time.
"Went into my @honest office today for a board meeting, although I'm still technically on mat leave," she posted along with a picture of her at the office last week, "Not gonna lie, it's impossible for me to completely unplug from work ...and it felt nice being back -even though it was just a half day. Baby boy came to visit/eat at lunch. Felt very productive today. #workingmom #entrepreneurlife #breastfeedingmama."
The mother of three also shared a diet tip, showing a photo of her eating a sandwich without bread. "Sandwiches with no bread is no fun," she shared to her fans.
She has also hired nutritionist Kelly LeVeque to help her get back in shape. "I feel like it's time to get my ish together and make healthier choices," she said. "I'm working on a variety of things for fitness, once I get the go ahead from my Doc."
Sharing a picture from her gym session, she took a picture at Cycle House in West Hollywood last Tuesday. "Got back in the [bicycle] saddle ... ish was hard. #6weekspostpartum thx @aaronhines @cyclehousela & @tracydawnhall 4 motivating me," she captioned it.