The former Spice Girls member got creative as she shared a photo of her sitting on the floor with an elaborate turkey dress photoshopped onto her body.
Victoria Adams
a.k.a. Victoria Beckham may be British, but it doesn't stop her from getting into the holiday spirit. The wife of
David Beckham
celebrated Thanksgiving by dressing herself as one of the holiday's icons, turkey.
The style guru got creative as she traded her stylish look for a clumsy one. Taking to Instagram Stories, Victoria shared a hilarious photo of herself. In the snap which the former
Spice Girls
member posted on Thursday, November 23, she could be seen sitting on the floor with an elaborate turkey dress photoshopped onto her body.
She kept her brunette locks slicked back as she put a touch of berry to her lips. "Happy Thanksgiving," the 43-year-old designer/model wrote. "Kisses."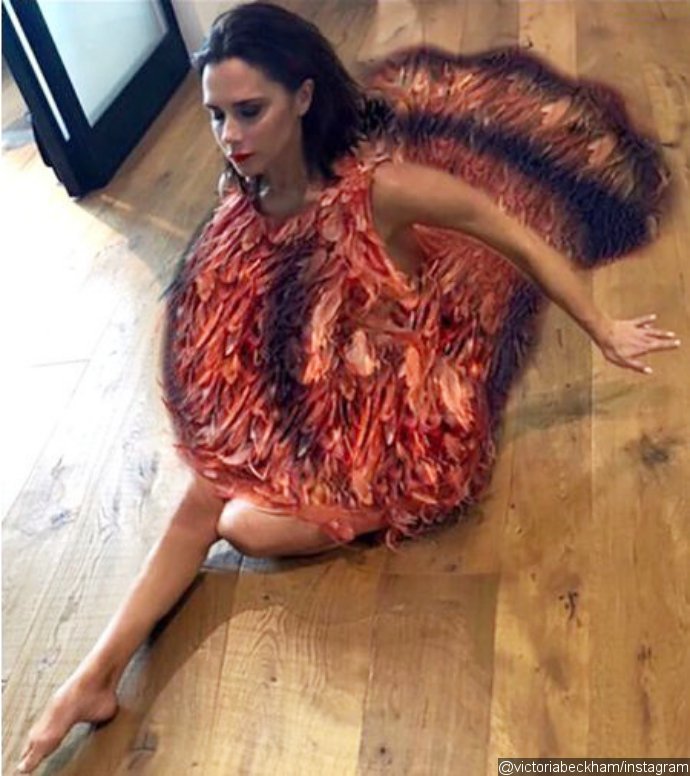 During her appearance on "This Morning" with pal
Eva Longoria
, Victoria revealed that she was thankful for her blessings. She noted that she was lucky for meeting her soccer star husband, adding that "love at first sight does exist."
Not only her feeling grateful for her own life, Victoria further said that her youngest child Harper is thankful for her life as well. "Harper knows that mummy and daddy, and auntie Eva do things to help other people, and she wants to do that as well," the mother of four spoke of the 6-year-old girl. "She understands, even at six, that she is very blessed. She's very lucky to have what she has."
Victoria has been known as a family woman. The doting mom got
emotional
when her oldest son
Brooklyn Beckham
flew to New York to begin a photography course at a university in the city. "We are all so proud of you Brooklyn. Amazing A level results and off to college. We love you so much and will miss you. #yesiamcrying #emotional," she previously captioned a photo featuring her having teary eyes while cuddling up to her son in a chair.