The former Victoria's Secret Angel shows off her perky derriere as she soaks up the sun on the beach in California.
The chilling weather of fall season doesn't stop
Heidi Klum
from baring her hot bod. The 44-year-old model took to Instagram on Thursday, November 16 to share a racy snap of her sunbathing naked in California.
The "
Project Runway
" host lay with her face down on a towel spread on the beach as she soaked up the sun, flaunting her bare butt. She appeared to have just returned from taking a dip in the water as her body was wet with her long hair slicked back.
"CALIFORNIA DREAMING," she captioned it, adding some emojis. Her fans were gushing about her body on the comment section. "Perfect booty," one wrote. "hot ass," another praised her. "Still the hottest Angel!" read another comment. Another cheekily added, "Thanks for the nice rear view."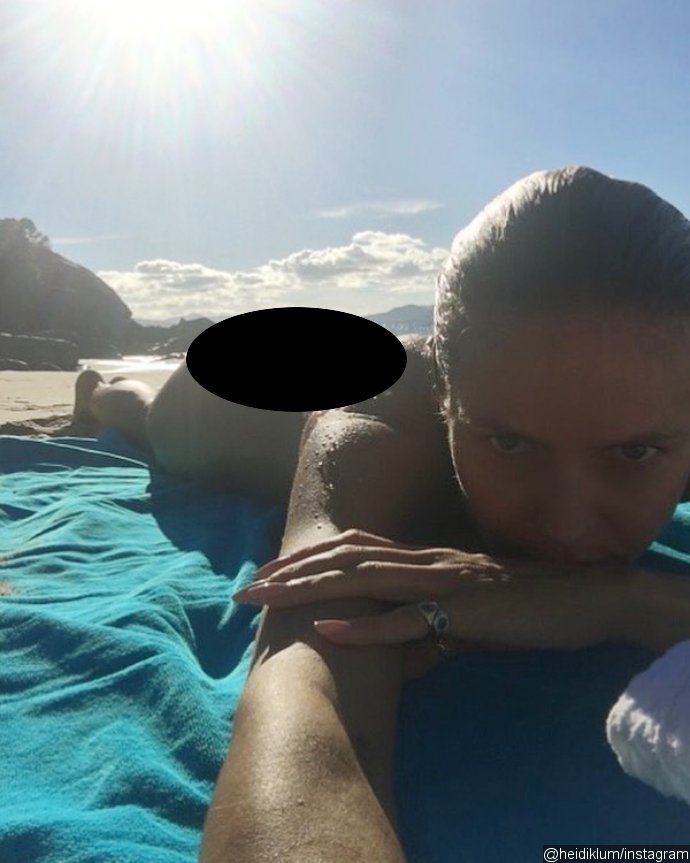 Heidi recently made headlines with her epic Halloween transformation. The Germany beauty turned into the
werewolf
in
Michael Jackson
's classic 1982 music video for "Thriller". She was totally unrecognizable as she was covered head-to-toe in prosthetic fur and makeup.
"It takes a long time to lay the prosthetics but then putting it all together, it took seven hours," she told PEOPLE about the process when met at her 18th annual Halloween party.
She also explained to
ET
about her decision to transform into the character. "Michael Jackson's 'Thriller' video is so iconic and it is so fabulous that we had to redo that for Halloween so we're all learning this dance," she said, "Obviously, I'm not as good as Michael, no one ever will be as good as Michael, but I really tried my hardest."
Earlier this year, Heidi, who is known for her epic Halloween costumes, teased about her Halloween costume. "This year I'm going to be scary," she revealed. "Not Scary Spice, but I'm going to be scary because last year I was just me, and I had five clones."