When making her way out of Michael Kors' show during NYFW on Wednesday, the model shouted at a male guard, 'Don't touch her!' after he roughed up a female photographer.
Bella Hadid
was not happy when her security team got a little too rough with a female paparazzo. The model was at New York Fashion Week to hit the catwalk on Michael Kors' show on Wednesday afternoon, September 13, and when leaving the show, she saw one of her security guards roughing up the photographer.
Things got a little hectic with her large security escort when Bella made her way to a waiting SUV. Two female security personnel continued to yell "Move it" as they pushed through their way to the model's ride. A male security then could be seen trying to physically move the female photographer out of the way to make room for the model and her entourage.
Seemingly unhappy with how the male guard treated the paparazzo, Bella leaned over and grabbed him. "Hey! Can you please not touch her?" she yelled at the guard. The younger Hadid sister then asked the photographer, "Are you ok?" before turning back to the guard to continue scolding him, "Don't touch her!" The model ignored him when he appeared to plead that he didn't touch her, and continued walking towards her ride.
Bella modeled for Michael Kors earlier that morning. She strutted her stuff on the spring 2018 catwalk along with other fellow models. Going braless, the younger sister of
Gigi Hadid
gave a glimpse of her nipples in a see-through, long-sleeve top tucked into a high-slit black skirt. She wore minimal makeup and pulled her hair up in a messy bun.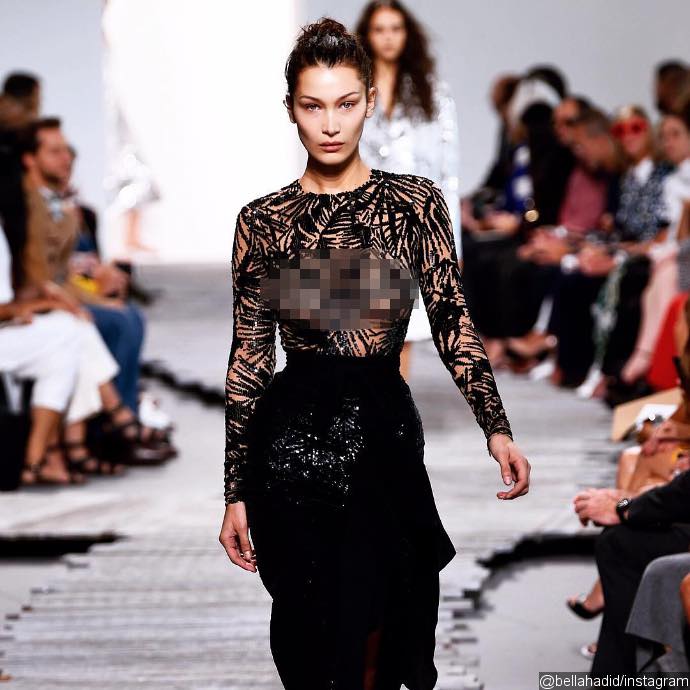 Bella's BFF
Kendall Jenner
also walked on the runway, but her getup was slightly more conservative. The 21-year-old model looked gorgeous in a sparkly black top and a matching high-slit skirt that showcased her toned tummy. She also wore minimal makeup and had a similar hair 'do with Bella. But unlike Bella who sported strappy heels, Kendall walked down the catwalk in a pair of flip-flops.