The 'Fuller House' actor thanks his online followers for their birthday wishes in a cheeky picture on Instagram.
John Stamos
got cheeky on Instagram. The "
Fuller House
" actor posted a picture of himself in his birthday suit. It showed him flashing his butt cheeks. He was mooning the camera while taking an outdoor shower among some greenery.
His back was to the camera while he half-turned. It looked like the picture was taken by a sneaky friend. Although he was seemingly caught by surprise, he approved of it. "#54 and clean. Thanks for the birthday wishes!" he wrote in the caption.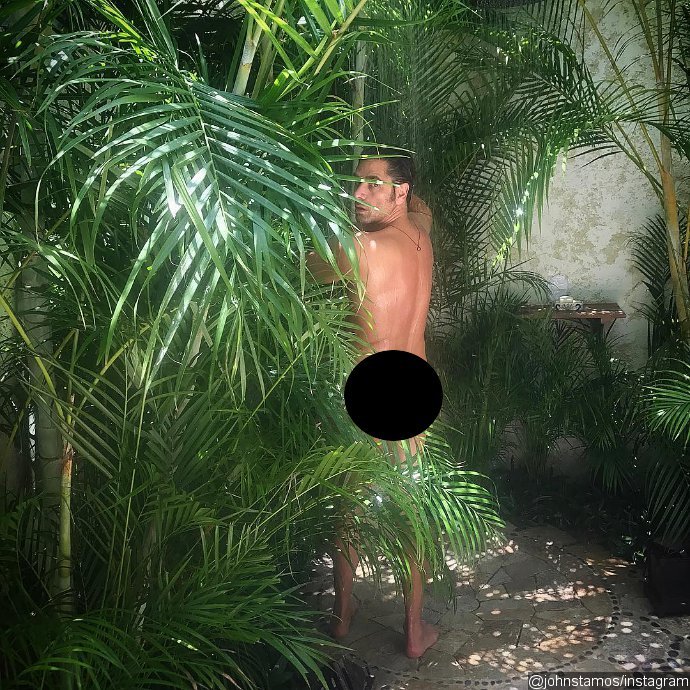 Stamos turned 54 on August 19. He celebrated with his online devotees by sharing a throwback image from his young days. It featured his young self flashing a big smile to the camera. "It's a wonder just how much of life sits before me eagerly (almost impatiently) waiting to reveal it's gentle, imperfect, often unimaginable beauty," he wrote.
"When I've been willing to suspend my judgment, hold my criticism, proactively find the positive, and most importantly embrace wonder, I've found authentic happiness," he went on. "To stumble safely this far together is a real wonder. Thank you for the lovely birthday wishes. Sending you much, much love!"
A few days prior to his birthday, Stamos attanded the opening of "Hamilton" in Los Angeles at the Pantages Theatre. "Opening of #HamiltonLA -More relevant today than ever. Lin-Manuel time released his genius," he gushed.
Lin-Manuel Miranda
, the mastermind behind the critically-acclaimed play, greeted the guests at the event, "I did tell them they might have to close down the streets. They have closed down the street. Thank you all for coming."
John Stamos will be back on "Fuller House" after the show was picked by Netflix for season 3. Production began in March. The next installment will be split into two parts. The first one consisting of nine episodes is due September 22.