The 'Keeping Up with the Kardashians' star strips down to her birthday suit in an Instagram photo, which finds her posing in a pool of water.
Kourtney Kardashian
celebrates her 38th birthday in true Kardashian style. The mother-of-three strips down to her birthday suit in a photo she shares on Instagram to ring in her special day.
Shot by acclaimed photographer Mike Rosenthal, the photo finds Kourtney posing naked in a pool of water. She flips back her wet hair, creating an arch of droplets above her head. She places her right arm in front of her chest to avoid showing her boobs, while she puts her perky derriere on display. The reality TV star simply captions the risque snap, "birthday suit."
Kourtney allegedly has a specific reason she poses naked for the photo. "To Kourtney [Kardashian], age is only a number," an insider tells
HollywoodLife.com
, before adding that she's proud of her look, especially after having three kids. "She is not ashamed of getting older and she wants to show that no one else should feel that way either," the source adds.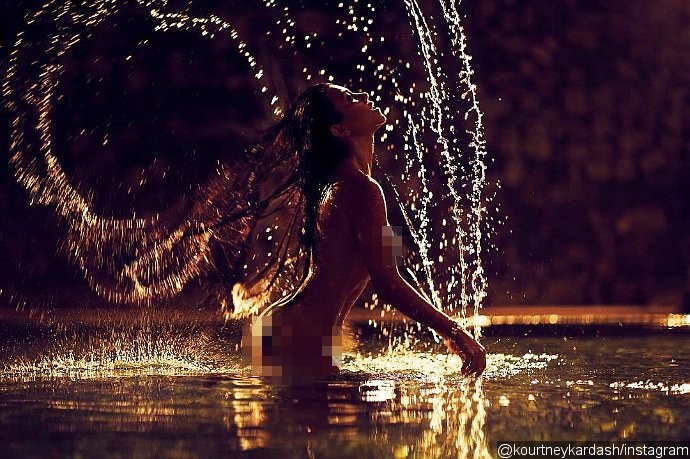 The eldest Kardashian sister was showered with love by her family and close friends on Tuesday, April 18. "Happy birthday to the Milly to my Vanilli,"
Khloe Kardashian
captioned a clip of her and Kourtney's wild adventures over the years.
Kim Kardashian
took to her
website
and app to share throwback photos. "Happy Birthday to the best older sister. I'm so blessed to have you in my life," Kim wrote. "I love how close we were growing up -- and still are today. I don't know what I would do without you! Love you!"
Kris Jenner
, meanwhile, shared on her Instagram account a collage of photos from Kourtney's childhood, plus two of her as an adult.
Kendall Jenner
also shared her birthday wishes to Kourtney by posting three pictures of her and her elder sister on her
website
. "I hope you have the best birthday, Kourtney!!!" she captioned it, adding, "You do so much for everyone else, so I hope you take the day to treat yourself. I love you!"