The 'No Frauds' rapper has shared on social media some sexy pictures, one of which features her flaunting her famous derriere in a sheer bodysuit.
Nicki Minaj
is no stranger to sporting body-baring ensemble on-and-off stage. The 34-year-old rapper took to her Instagram account on Sunday, March 19 to share a couple of racy pictures featuring her flaunting her voluptuous curves in a sheer bodysuit.
As seen in one of the photos she shared during a publicity trip to London, England, Nicki cheekily touched her crotch with her hand as she gazed at the camera. She was seen flashing her nipple in the sultry bodysuit with a bondage-style leather bra that was covered in metal studs.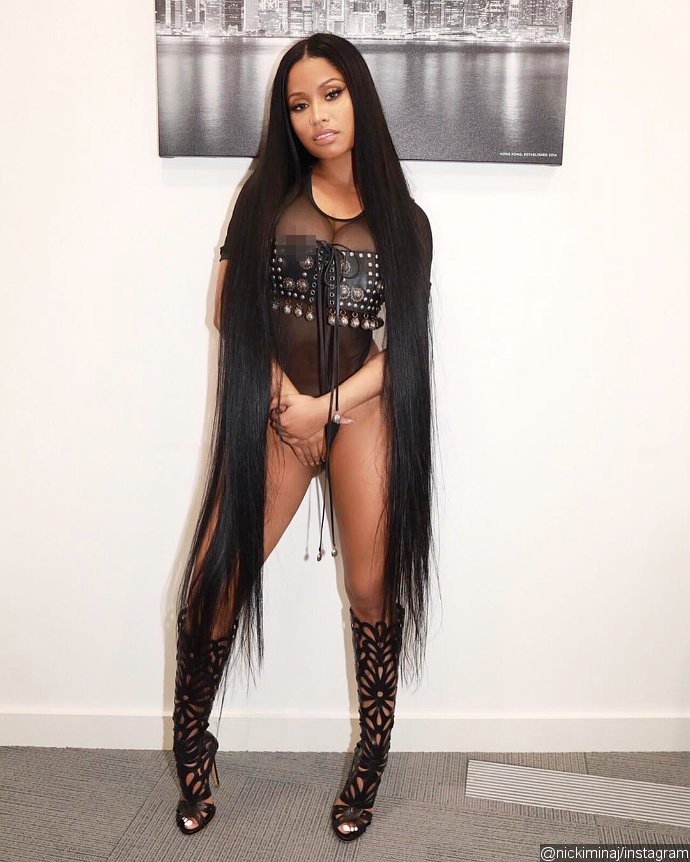 The other picture had the "No Frauds" hitmaker flashing a huge amount of her famous derriere. Sporting ankle-length hair extensions and a pair of Osmose heeled boots, the ex-girlfriend of
Meek Mill
was seen posing sideways onto the camera while leaning against the wall.
Later that day, Nicki posted an image of her posing outside in London as she waved a Union Jack flag. She covered her modesty in a white fur coat, finishing up her look with a silver headdress. "It's FREEZING COLD OUT HERE!!!!!!" she captioned the snap, adding snowflake and snowman emojis.