The sentient gorilla makes its terrifying debut in newly-released photos of 'Attack on Gorilla City' episode.
"
The Flash
" is back next Tuesday with a very intense episode which will revolve around the return of his furry rival Gorilla Grodd (voiced by David Sobolov), a giant telepathic ape. In the new two-episode event, Team Flash will travel to Earth-2 to help Jesse (Violett Beane) find her father, Dr. Harrison Wells (
Tom Cavanagh
), which was held captive by Grodd.
The villainous Grodd took Wells to bait Barry a.k.a. the Flash (
Grant Gustin
) and his crew into coming to Gorilla City and helping him overthrow Solovar, its leader. And Barry indeed takes the bait. He reveals his plan to Julian Albert (
Tom Felton
) as Julian asks in confusion, "Are you going to the Planet of the Apes?" In the trailer, it's seen that Team Flash are captured and trapped in a cage by the treacherous black giant ape.
The CW also unveils two photos which offer the first look at Grodd's nemesis, a white-furred gorilla Solovar (voiced by
Keith David
), who is making its terrifying debut on the series. The almighty Solovar is a hyper-intelligent ape who leads the Gorilla City and known for his great wisdom and psychic abilities. All respects him except Grodd, who wants to take over the throne. It comes as a surprise that Solovar may play the bad guy on the series, though it perhaps because Grodd is playing some mind games.
Created by writer John Broome and artist Carmine Infantino, Solovar made its first appearance in the comics on "The Flash" #106. He appeared alongside his rival Gorilla Grodd and Pied Piper.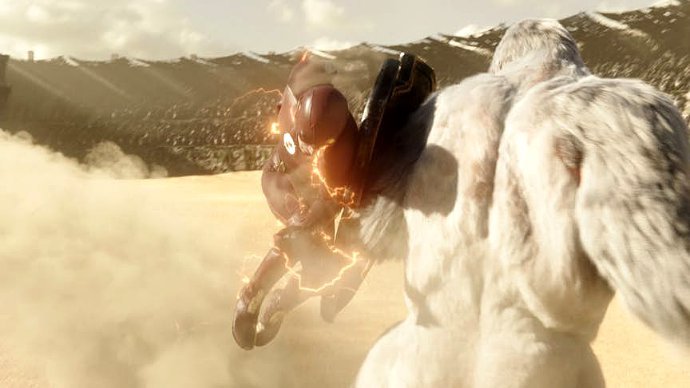 The Flash will fight against Solovar in the new episode titled "Attack on Gorilla City" which will air on Tuesday, February 21 at 8 P.M. on The CW. According to the official synopsis of the new episode, "When Jesse Quick informs the team that her father has been abducted, Barry, Caitlin, Cisco and Julian voyage to Earth-2 on a rescue mission to save Harry from Gorilla City. As they trek through the forest, Barry and the team are immediately captured and brought to Grodd. Grodd tells them he needs their help to stop Solovar, the leader of Gorilla City, as Solovar wants to invade Earth-1. Meanwhile, back on Earth-1, Jesse and Kid Flash (Keiynan Lonsdale) hit the streets to stop a metahuman that can control gravity, with H.R. and Joe (
Jesse L. Martin
) guiding them from S.T.A.R. Labs."
Dermott Down directed the new episode with teleplay by Aaron Helbing and David Kob. Andrew Kresiberg wrote the script.