The reality TV star got called out for posting a picture of her daughter wearing a jumpsuit that failed to cover her chest and having photoshopped pasties over her nipples.
Kim Zolciak
drew outrage from fellow parents after she posted a picture of her 2-year-old daughter Kaia. The reality TV star got blasted by a bunch of people commenting on the snap that saw the little girl wearing inappropriate outfit and nipple pasties.
In the photo, shared and later deleted over the weekend, Kaia smiled at the camera while showing a cut on her nose which her mom joked was due to plastic surgery. "If you zoom in on my nose you will see my mom is already molding my face to look just like hers... as I stand there in anticipation I can't wait to see what my face will look like," so Kim wrote in the caption.
The "
Don't Be Tardy...
" star added the hashtags "#SamePlasticSurgeon" and "#StartingAnArmyOfKims" among others. She also used other hashtags to explain that the girl got the injury after she "#FellFlatOnMyFace."
However, a lot of commenters were more concerned about what Kaia wore in the snap. The toddler, who's turning 3 next month, donned a jumpsuit that exposed her bare chest and her mom added photoshopped heart-shaped pasties over her nipples.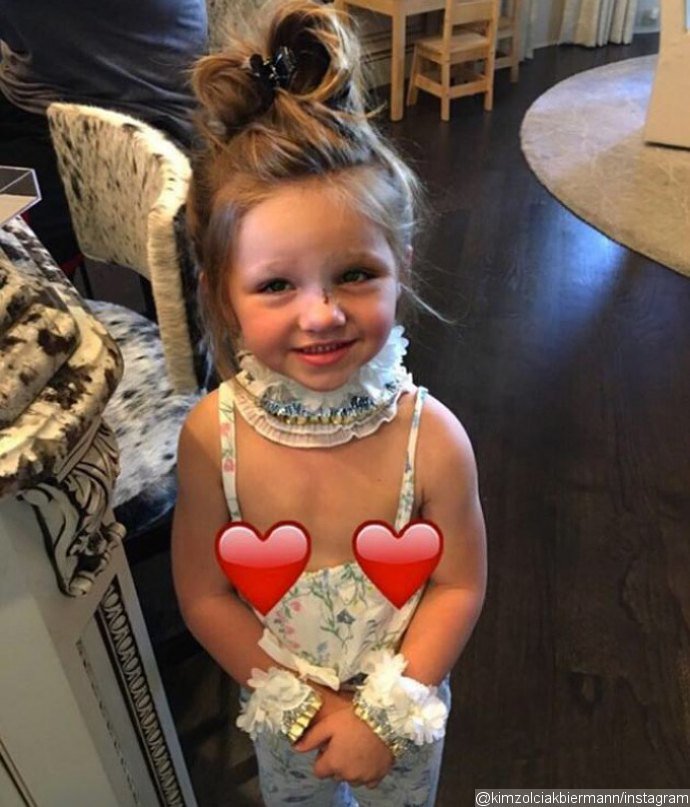 One fan criticizing the photo commented, "No one wants to see a child injured, poor thing, glad she's a tough chic. However, as a mother of 3 girls, I have to disagree with the posting of a photo with hearts over her chest. All you had to do was crop the photo to only show her face." Another critic wrote, "KIM TAKE THIS S**T DOWN NOW! If it took for you to put emojis on the pic you shouldn't have even posted it. You raising up a bunch of Kims alright."
"I know my comment will be deleted and I will be called a troll just know when horrible things like this pop up randomly I have every right to comment," another said. "You are a horrible disgusting mother. If this picture was posted by anyone else people would think it horrible but for some reason all if your crazy trashy finds adore it and you. I feel sorry for your kids and the kids of your followers."
The comment wasn't deleted, but the picture was. Following backlash, Kim decided to remove it.