The picture from the animation features both the aliens and the humans, while one photo from the horror movie sees Sidney being chased by Ghostface.
A new picture from Walt Disney Pictures' "
Mars Needs Moms!
" has surfaced, revealing the alien creatures as well as a couple of human characters. In the image, the aliens are seen observing the humans via an oval-shaped screen.
Also, three new stills from "
Scream 4
" have been found. Two of them feature
Neve Campbell
's Sidney Prescott while the other one captures some of the young cast together, including Erik Knudson,
Rory Culkin
, Marielle Jaffe and
Hayden Panettiere
.
Based on Berkeley Breathed's book of the same name, "Mars Needs Moms!" is a story of nine-year-old Milo who finds out just how much he needs his mom when she's nabbed by Martians who plan to steal her mom-ness for their own young. Milo's quest to save his mom will include stowing away on a spaceship, navigating an elaborate, multi-level planet and taking on the alien nation and their leader. This Simon Wells-directed 3-D animation will open wide in the U.S. on March 11, 2011.
As for "Scream 4", it will follow Sidney Prescott who returns to Woodsboro and finds her world once again ripped apart by the reemergence of Ghostface started with the discovery of a murdered student. Having Wes Craven on the director's seat, this horror thriller will entertain moviegoers in theaters nationwide on April 15, 2011.
New 'Mars Needs Moms!' picture: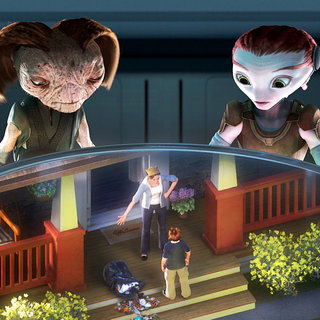 New 'Scream 4' pictures