Marisa Miller was left red faced when her assets were exposed in front of football spectators, Lady GaGa landed on her face after falling from her platform shoes while Miley Cyrus appeared braless.
Celebs can't always be as glamorous and flawless as they seem. They sometimes also end up being the center of attention after unwittingly caught in the middle of embarrassing situations. Unfortunately, when stars are making any kind of mishaps, snappers are mostly nearby to capture the moments.
Listed below are those who were left red faced this year when something went wrong with their outfits during public outing or when they were entangled in unlucky situations and caught on cameras. "
Hannah Montana
" star
Miley Cyrus
, for example, made a scandalous outing by not wearing bra underneath her revealing T-shirt.
Lady GaGa
also made it to the list after taking a stumble, thanks to her massive platform shoes.
Wardrobe Malfunctions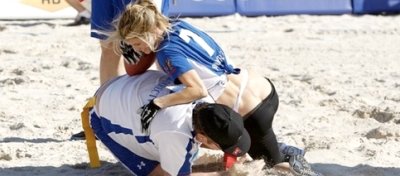 Despite putting their best efforts in choosing wardrobe to look stunning, the outfits could put them into awkward situations. Victoria's Secret model
Marisa Miller
was left red faced during a pre-Super Bowl celebrity football game back in February for another player, funnyman Tom Arnold, accidentally grabbed the rear of her pants and exposed her assets.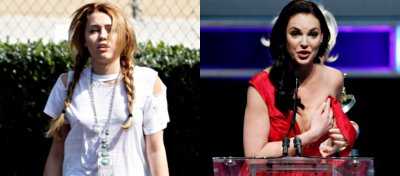 Recently, Disney star
Miley Cyrus
let the world know how fully-grown she is. Miley was pictured braless during her outing at Patty's diner in Toluca Lake in Los Angeles. Meanwhile,
Katherine Heigl
nearly showed her boob on stage when accepting the Female Star of the Year Award at the ShoWest convention in March when the shoulder strap on her designer dress snapped.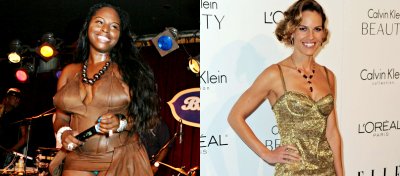 Foxy Brown
flashed her panties thanks to her extremely tight and short brown outfit when performing at B.B. King Bar & Grill in New York on July 25. While onstage, her dress suddenly
went up
, giving audience a graphic glance of her blue undies. As for
Hilary Swank
, the actress unwittingly bared her hairy armpit at the red carpet of Elle Magazine's Women in Hollywood Tribute party in early October.
'Ooops' Moments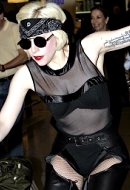 Some big stars who successfully became media attention for their ill-fortune are
Lady GaGa
,
Britney Spears
and
Lindsay Lohan
. GaGa nursed a bruised ego after taking an embarrassing fall during her walk at Heathrow Airport back on June 23. The singer, who is mostly known for her bizarre outfits, became a victim of her own fashion after falling from her massive platform heels.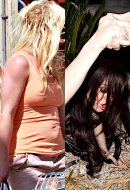 Just like GaGa, Britney might not want this to happen either. The "Toxic" crooner, on July 20, was unfortunately photographed with a head full of ratty extensions which might come as the result of not finishing putting in her last set of extensions. And troubled Lindsay joined the list after taking a stumble during her night out. To make the matter worse, the "
Mean Girls
" actress collapsed into a prickly cactus.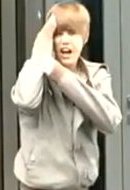 YouTube sensation
Justin Bieber
found people laughing at him after bumping his face onto a revolving door when he was in German back in May. The "Baby" hitmaker, however, decided to laugh along at
the incident
. Far cry from GaGa, Britney and Bieber, "
CSI: Crime Scene Investigation
" star Gerald McCullouch told reporter about his
embarrassing incident
himself. Gerald admitted that he was sentenced to counseling after New York City police caught him urinating in public back in May.