Donning a red-and-white headband and matching T-shirt, Alexis adorably cheers her mommy on while sitting on her daddy's lap.
Serena Williams
has two adorable cheerleaders during her first competitive match since giving birth. Husband Alexis Ohanian and their daughter Alexis Olympia cheered on Serena at the 2018 Fed Cup in Asheville, North Carolina over the weekend.
The 5-month-old looked adorable during the match, donning a red-and-white headband and matching T-shirt. Serena, who played double with her sister
Venus Williams
, shared on Instagram Stories a clip of herself zooming in on her husband and their little bundle of joy as
Shawn Mendes
' "There's Nothing Holdin' Me Back" being played at the venue.
Whoa, baby!


(via @serenawilliams) pic.twitter.com/hEFDzP742T

— Sports Illustrated (@SInow) 10 Februari 2018
Even though she had her family cheered her on, Serena unfortunately lost 6-2 6-3 to Lesley Kerkhove and Demi Schuurs of the Netherlands. Despite that, Serena stayed positive. "I honestly feel better than I thought I was going to feel," she told reporters after the match. "I feel like I'm on the right track for me."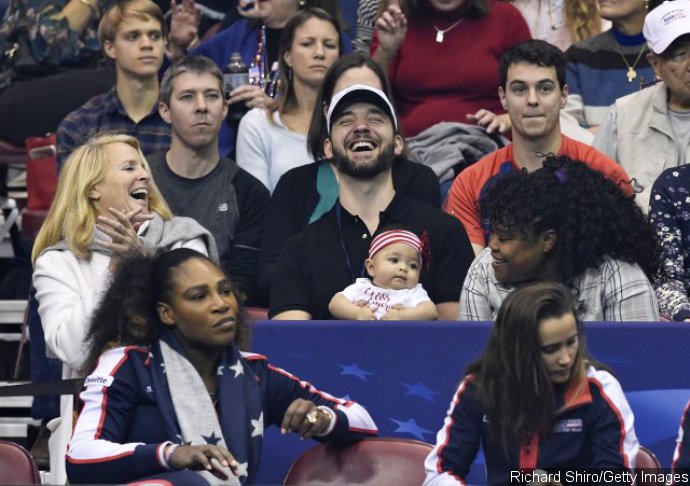 Earlier this year, the 36-year-old professional tennis player announced that she would
withdraw
from Australian Open after losing an exhibition match to French Open Champion Jelena Ostapenko in Abu Dhabi last year.
"After performing in my first match after giving birth I realized that although I am super close I'm not where I personally want to be," she said in a statement that was posted on Snapchat on January 4. "My coach and team always said, 'Only go to tournaments when you are prepared to go all the way.' "
"With that being said I am disappointed to say I've decided not to compete in the Australian open this year," she continued. "However, the memory of last year's Open is one that I will carry with me and Olympia and I look forward to coming back again. I appreciate the support and understanding of my fans and everyone at the Australian Open."