The seven-time Grand Slam winner was photographed with silver ring which has two diamonds in a beautiful swirl design at Sydney Airport on Tuesday, January 23.
Is
Venus Williams
engaged to boyfriend Nicholas Hammond? The professional tennis player has sparked engagement rumors after she's pictured donning a suspicious diamond ring on her ring finger.
The 37-year-old athlete set tongues wagging when she was seen sporting the eye-catching jewelry at Sydney Airport with her millionaire boyfriend on Tuesday, January 23. Donning a gray jacket and black leggings, the tennis champ intriguingly hid her hand under a large straw hat.
Walking beside her was Hammond, who opted for a casual look. He wore a wine-colored V-neck T-shirt and paired it with jeans while carrying a colorful bag. The pair, who were joined by Williams' mother Oracene Price and sister Isha, looked beaming during the outing.
At one point, however, Williams ditched the straw hat and casually flaunted the diamond band on her finger. In the photos obtained by
Daily Mail
, the seven-time Grand Slam winner seemed to be in jovial spirits as she waited at check-in, resting her diamond-clad hand on her hip for everyone to see.
This is not the first time Williams was photographed donning the ring. The athlete was seen flaunting the alleged engagement ring when she was relaxing on the beach before the Australian Open started. Clad in a black-and-white floral dress, Williams was pictured wearing the silver ring which has two diamonds in a beautiful swirl design.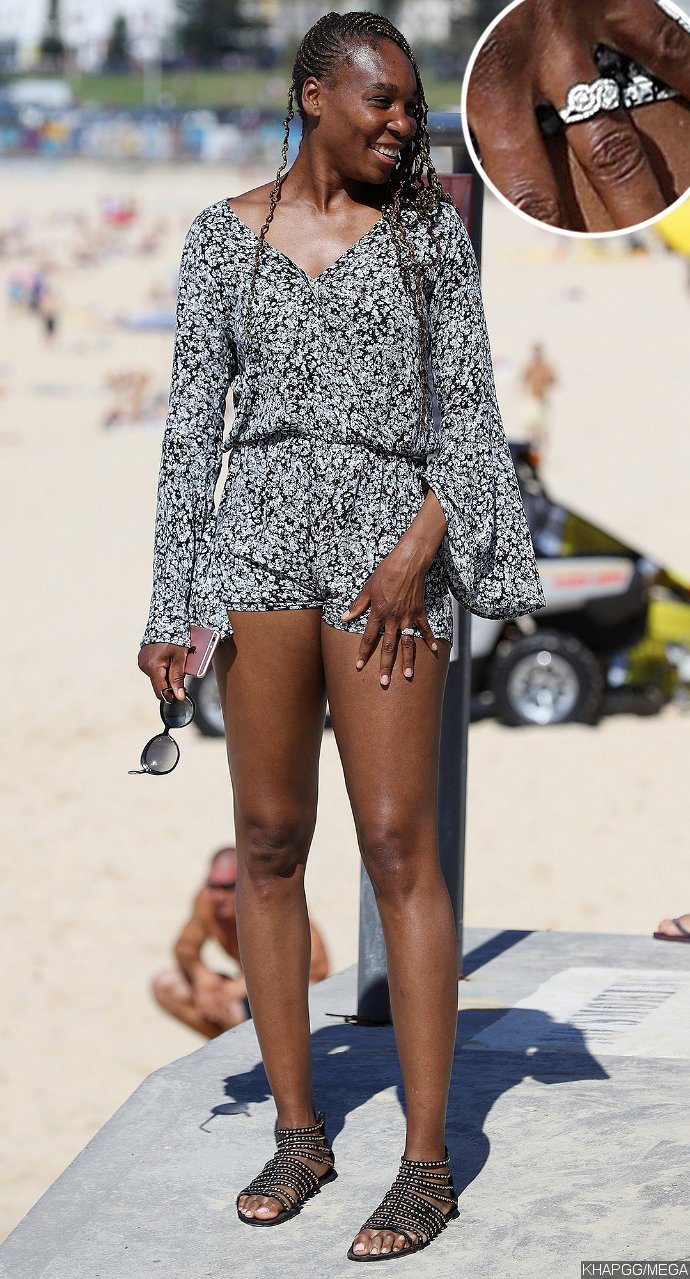 A representative for Williams denied the engagement rumors. However, the rep did state that Williams had a wonderful time with Hammond in Australia.
Last week, the couple was spotted at Tom and Anthony Martignetti's East Pole restaurant, where "they were cuddled up the entire time they were inside the restaurant," according to a source. The source told
Page Six
that Williams and her beau were "even kissing while waiting to be seated and continuing the affection at theor table."