The 31-year-old former Disney star takes to social media to reveal that she got bitten by a snake while on a hike, before assuring fans that she's okay after the incident.
Lindsay Lohan
revealed she got bitten by a snake during her vacation in Thailand. The 31-year-old actress and singer took to her Instagram Stories on Thursday, December 28 to share a series of videos as well as a photo featuring the bite wound she got while she was on a hike the other day.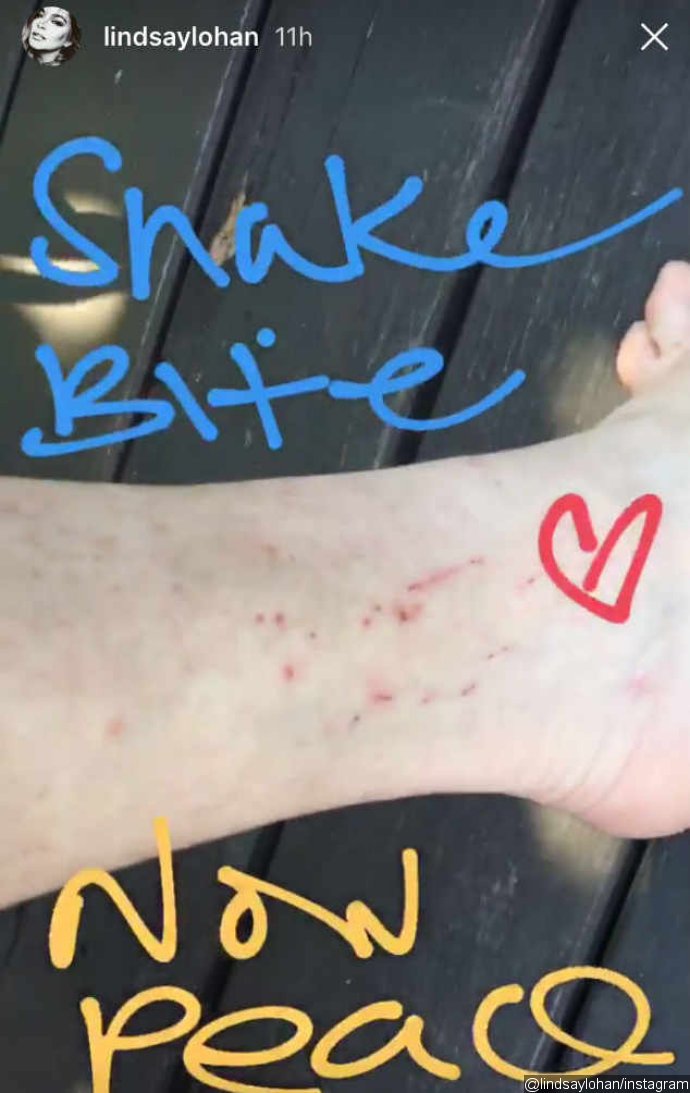 In the first video she posted, Lindsay showed her social media followers the view from her location in Phuket. "I love this, so beautiful. Amazing place. Aside from my snake bite," she said. "Hi! I'm still in Phuket in Thailand, it's beautiful here and yeah I got bit by a snake on a hike the other day," she revealed in a second video.
The former Disney star went on to assure fans that she's doing just fine after the incident. "The positive side of it is I'm okay," she said in another video, before wishing her fans a "Happy new year and god bless."
She later revealed in another video that her shaman on the journey told her the nasty snake bite was actually good luck. "Actually my shaman told me it was good luck and positive energy so God bless," the "
Mean Girls
" star said.
Lindsay spent the Christmas holiday in Thailand. On Christmas Eve, she took to her Instagram account to share a video featuring "the beautiful Kata Rocks, hotel and bucket," and send a happy holidays message to her online devotees.
"@katarocksphuket #Happyholidays so #beautiful 'CHRISTMAS WAVES A MAGIC WAND OVER THIS WORLD, AND BEHOLD, EVERYTHING IS SOFTER AND MORE BEAUTIFUL.' -Norman Vincent Peale," she wrote in the caption.
Lindsay, who has been living between Dubai and London in the past few years, made a rare appearance in New York City earlier this month. The "
Herbie: Fully Loaded
" actress attended Jingle Ball where she was dancing along to
Taylor Swift
's "Shake It Off" during the songstress' performance.
❤️ you @taylorswift13 #TaylorSwift #Swifties pic.twitter.com/PBxVxDy2Jo

— Lindsay Lohan (@lindsaylohan) December 10, 2017