The 'Titanium' singer doesn't realize that her boob is out of her white robe when she's pictured with a green face mask.
Sia Furler
gave more than she bargained for in a rare picture posted on Instagram. Not only she was showing her face, but also she gave her fans an eyeful as her boob slipped out of her white robe in the picture.
The 41-year-old singer/songwriter, who is known for her signature wigs that are always covering her face, posed with a green face mask on. She accidentally flashed her left breast as her robe slipped slightly too far. She also wore pink slippers and her hair was tied into a bun.
Sharing the picture was makeup artist and hairstylist Tonya Brewer. She wrote in the caption, "She just directed her first film. She had no idea her boob was out. thank you for letting me create magic with you @siamusic."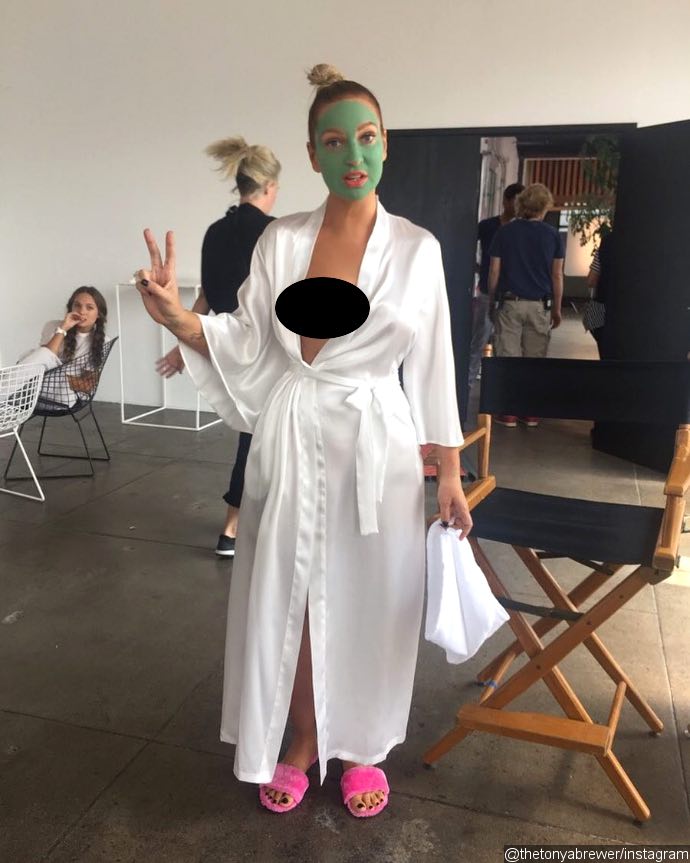 Sia made her feature film debut as director with "
Sister (2018)
" starring
Kate Hudson
and dancer
Maddie Ziegler
. Little is known about the movie, but Kate had to shave her head for her role in the film.
As for why she always wears wigs in public, the "Chandelier" hitmaker told
James Corden
when they filmed Carpool Karaoke for "The Late Late Show" in February 2016, "I don't wear this thing unless there's a camera around, I only wear it so I can maintain a modicum of privacy."
She also revealed the idea behind the wig. "I was a singer for 10 or 11 years to mediocre success," she said. "I was an alcoholic and a drug addict. I sobered up, and I decided I didn't want to be an artist anymore, because I was starting to get a little bit famous and it was destabilizing in some way." She continued, "I thought, 'What doesn't exist in pop music at the moment?' And it was mystery. I was like, 'There's pictures on Instagram of everyone at the dentist.' "