Lawrence, however, avoids to be photographed side by side with the movie helmer by having her co-star Michelle Pfeiffer stand between them.
Jennifer Lawrence
and her "
mother!
" co-stars attended the premiere of the movie at the Venice Film Festival on Tuesday night, September 5. The 27-year-old actress looked flawless in a floral floor-length Dior gown.
She showed some skin as she went braless under the partially sheer dress with polka dots and a pretty floral pattern that perfectly prevented Lawrence from showing too much. She arranged her blonde hair in a neat updo and sported smokey eye makeup with a soft pink lip gloss.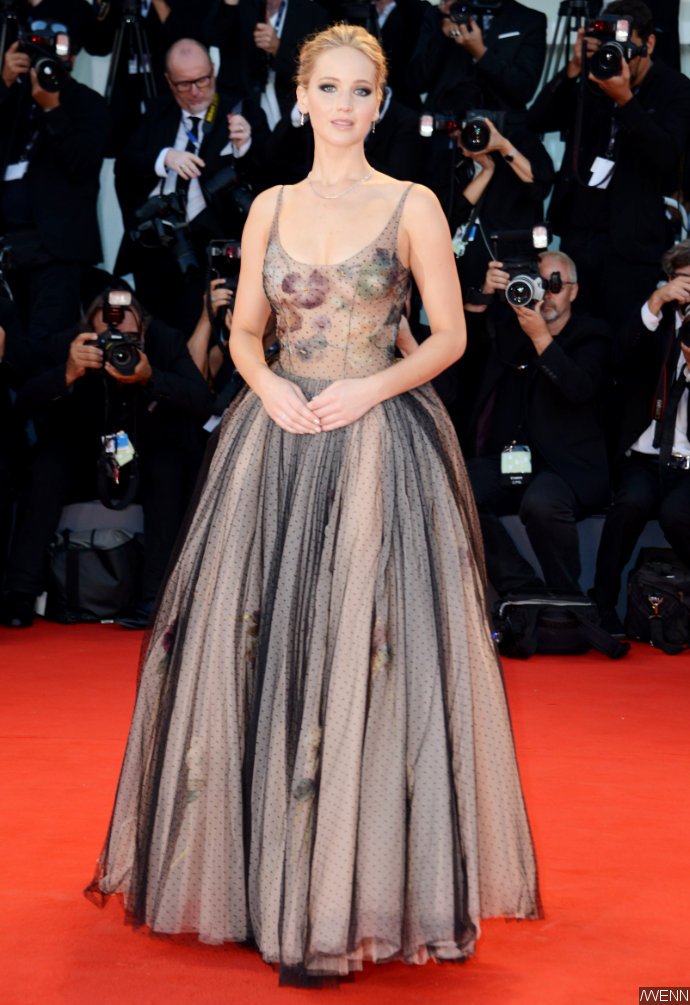 The movie director Darren Aronofsky also attended the event. It marked the first time he and Lawrence hit a red carpet as a couple, but they avoided being photographed together. In group photos, the pair posed with co-star
Michelle Pfeiffer
between them. They were also joined by
Javier Bardem
, who plays Lawrence's on-screen husband in the thriller.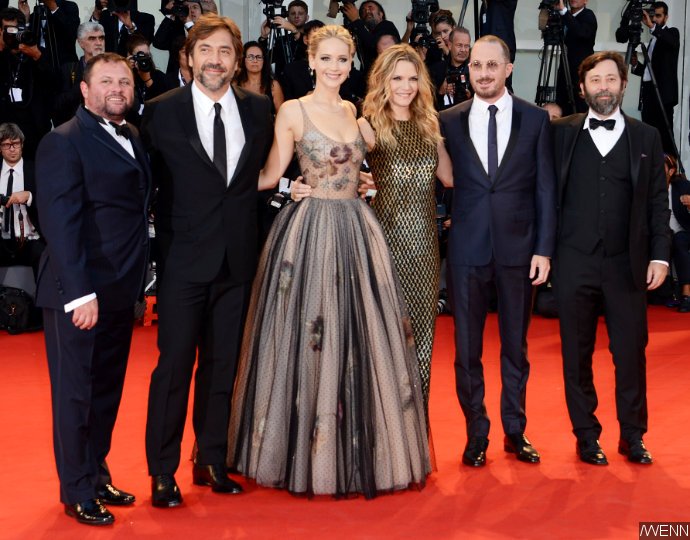 Pfeiffer looked stunning in a black and gold Michael Kors patterned gown that trailed down to her feet. Letting her long blonde hair down with soft waves, the 59-year-old actress put on an age-defying display. She came to the special screening with her husband David E. Kelley.
Making the night merrier were some celebrity guests such as
Stella Maxwell
and
Rebecca Hall
. Victoria's Secret model Maxwell oozed glamor in a slinky pink gown with a tigh-high slit, while "
Iron Man 3
" star Hall bared cleavage in a black Giorgio Armani dress with a glittering mesh overlay.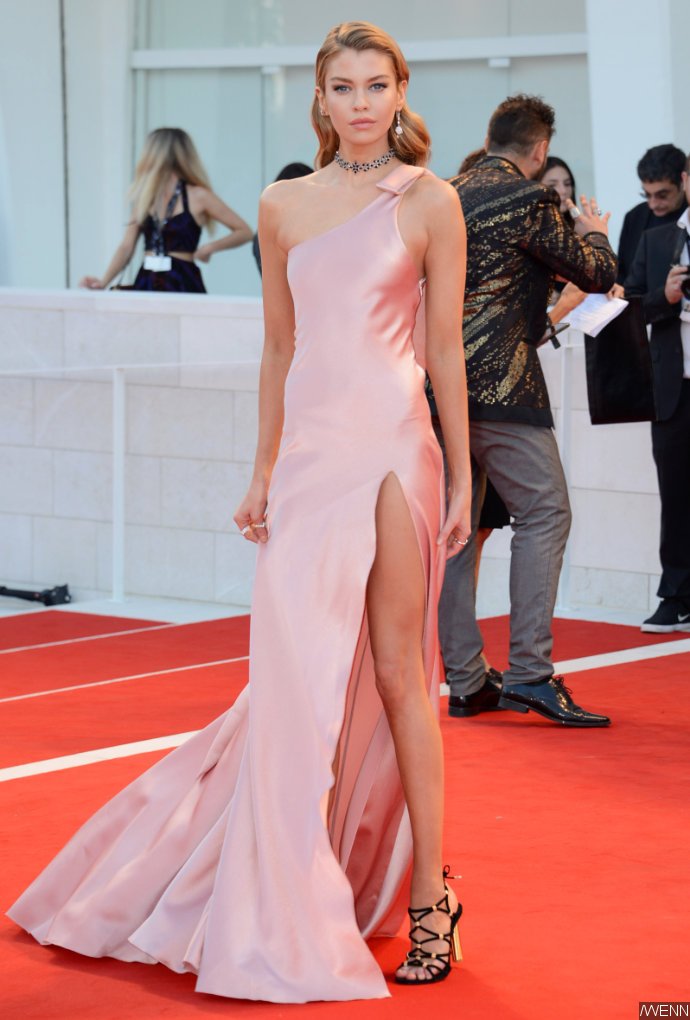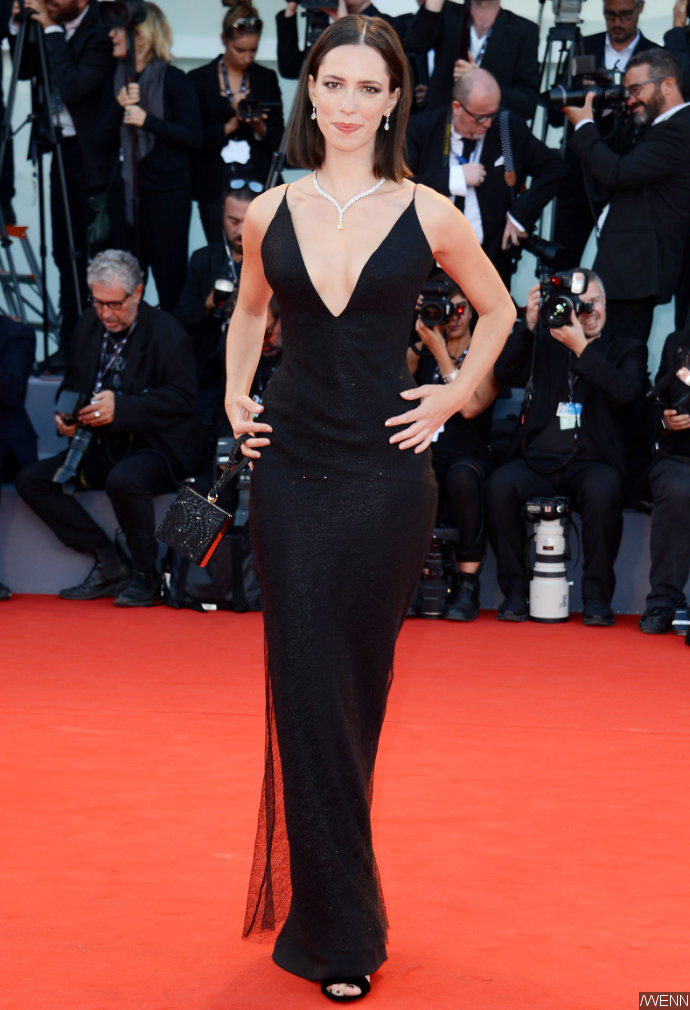 "mother!" follows a couple whose relationship is tested when uninvited guests arrive at their home, disrupting their tranquil existence. Also starring
Ed Harris
and
Kristen Wiig
, it is set to be released in the U.S. on September 15.
The movie received mostly positive reviews from critics at the festival. "A very 'Rosemary's Baby'-like intimate horror tale that definitely grabs your attention and eventually soars well over the top to make the bold concluding statement that, for some creators, art is more important than life," wrote The Hollywood Reporter's Todd McCarthy.
The Playlist of Jessica Kiang also raved, "It's not just Aronofsky's most bombastic, ludicrous and fabulous film, spiked with a kind of reckless, go-for-broke, leave-it-all-up-there-on-the-screen abandon, it is simply one of the most films ever."