Another behind-the-scenes image sees Bowers Gang, a group of high school bullies who terrorize The Losers Club.
Pennywise spreads terror again in a new "
It
" behind-the-scenes image. Making its way out via Reddit, the picture sees the monster clown choking someone who looks like a female child. We can see that the monster's mouth is open wide and his eyes are creepily rolled back.
The image also shows three members of The Losers Club, who are not in the shot and standing off to the side of the set. The kids, who include Richie Tozier (
Finn Wolfhard
), Eddie Kaspbrak (Jack Dylan Grazer) and Stanley Uris (Wyatt Oleff), are standing close to what looks like an underground sewer system.
Elsewhere, an image featuring Bowers Gang has made its way out via Liljas Library. The gang consists of high school bullies who terrorize The Losers Club with its members including Victor "Vic" Criss (Logan Thompson), Henry Bowers (Nicholas Hamilton) and Reginald "Belch" Huggins (Jake Sim).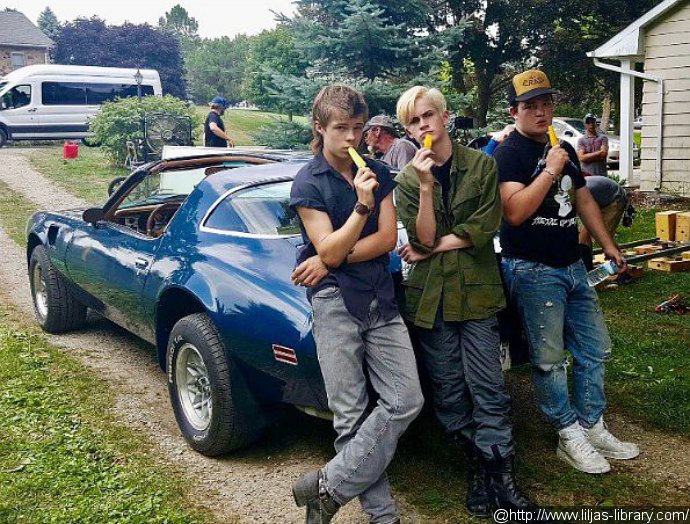 Directed by Andres Muschietti and based on Stephen King's novel, "It" follows seven children known as The Losers Club who have to face life problems, bullies and killer monster Pennywise. The clown monster haunts Derry, Maine, every 30 years and terrorizes its victims by exploiting their fears and phobias.
Back in 1990s, Pennywise was portrayed by
Tim Curry
on "It" miniseries. The killer clown will be portrayed by
Bill Skarsgard
in the upcoming movie and Muschietti promises that Skarsgard's take on the character will be "more terrifying."
"It" will be split into two movies, with the first movie being set to be released in the U.S. on September 8. The second movie, meanwhile, reportedly would start filming on March 17, six months before the release of the first film.
Also starring in the movie are
Jaeden Lieberher
, Jeremy Ray Taylor, Chosen Jacobs, Sophia Lilis and Javier Botet. Gary Dauberman, Chase Palmer and Cary Joji Fukunaga write the script based on King's novel.