The three actresses are among nominees of the 2017 Academy Awards who gather in Las Vegas to attend the annual luncheon.
This year's Oscar hopefuls gathered on Monday, February 6 to attend the annual Nominees Luncheon in Las Vegas. Plenty of nominees stepped out for the big event, including A-list actresses
Emma Stone
,
Natalie Portman
and
Michelle Williams
.
Stone appeared in one-shouldered navy blue jumpsuit and paired it with black heels. The "
La La Land
" actress posed casually as she put her hands in her pockets. Portman also opted for simple look. The pregnant lady wore a black loose dress and paired it with black flats. She showed off her growing baby bump as she tied a belt around her belly to accentuate her body. Both Stone and Portman looked effortlessly pretty as they let their brunette hair down.
While Stone and Portman chose to look simple and chic, Williams tried a more experimental style. She came in a glossy peach and black asymmetrical dress. She stole the spotlight with her short pixie-cut blonde hair and innocent smile.
The three actresses later joined other nominees in cavernous luncheon room that served mostly salad and champagne. They also took an annual commemoration picture together at the luncheon, following a longtime tradition of the award-giving ceremony.
During the luncheon, Academy president Cheryl Boone Isaacs addressed last year's #OscarsSoWhite controversy in a speech about diversity. "This luncheon is a tradition and a chance to spend an hour to relax and reflect. The photo is more than a snapshot. It is a signature milestone ensuring your place in movie history," she said, before adding, "What a difference a year makes. Real progress has been made. When we expand our membership and reach out to be inclusive, we set a shiny example."
"You may notice a few empty seats here today," Isaac continued. "Art has no borders and doesn't belong to a single faith. Strong societies don't censor art, they celebrate it. America should always be not a barrier but a beacon. All creative artist around the world are connected. Our work does not stop at borders, and borders cannot stop any of us."
Isaac's speech referred to
Donald Trump
's controversial Immigration Policy that banned seven Muslim countries from entering the United States. That policy affected the award-giving ceremony since it led to several nominees not being allowed to enter the country.
It was previously reported that Iranian director Asghar Farhadi, whose movie "
The Salesman
" is nominated for Best Foreign Language Film, "wouldn't be let to enter the U.S." to attend the ceremony. It caused Iranian actress Taraneh Alidoosti, who also starred in "The Salesman", to boycott the event as a protest over the "racist Immigration Policy towards Iranian."
Despite the absence of several nominees, the luncheon was still attended by many famous names, including
Viola Davis
,
Ryan Gosling
,
Matt Damon
,
Naomie Harris
,
Nicole Kidman
and
Dev Patel
.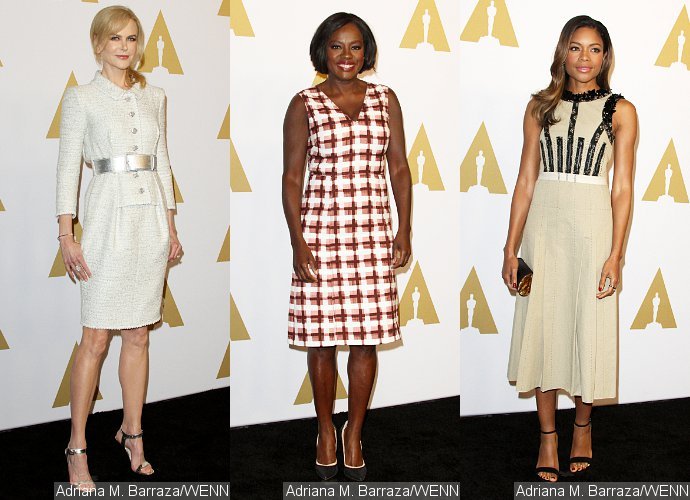 Hosted by
Jimmy Kimmel
, the 89th annual Academy Awards is set to air live on ABC on Sunday, February 26.