Tom Cruise, George Clooney, Robert De Niro, Shia LaBeouf, Megan Fox, Sean Penn, Meryl Streep and more are also featured in the commemorative picture to celebrate Paramount Pictures' anniversary.
Paramount Pictures is celebrating its 100th anniversary in a very special way. The third-oldest existing film studio in the world unleashes a star-studded commemorative photo via Vanity Fair. The picture features a total of 116 biggest names in movie industry who have worked with the Hollywood's most iconic studios in the past years.
A-list actors from Paramount's blockbuster titles such as "The Godfather", "Love Story", "
Transformers
" and "
Iron Man
" are assembling and posing together on a giant stairway. The stars include
Leonardo DiCaprio
,
Brad Pitt
,
George Clooney
,
Tom Cruise
,
Robert Downey Jr.
,
Cameron Diaz
,
Charlize Theron
,
Sean Penn
, and even
Justin Bieber
. Famous filmmakers such as Steven Spielberg, Martin Scorsese, J.J. Abrams and David Fincher are also featured in the picture.
Standing in the middle above them all are "Love Story" stars
Ryan O'Neal
and Ali MacGraw. The two admit to feeling sentimental when reuniting for the photo shoot. "It was more than thrilling... and incredibly nostalgic... to be part of that extraordinary gathering of actors who had worked for Paramount, as I had," McGraw tells Yahoo! Movies.
The epic picture is also included in the July issue of Vanity Fair magazine, which has
Kristen Stewart
gracing the cover.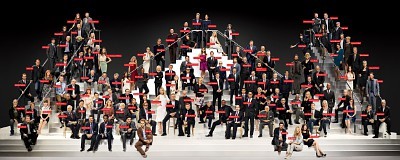 Behind-the-scene of the Paramount anniversary photo: