While the photos from the wizard movie feature the characters, the image from the action comedy shows a dragon fighting a plane.
Brand new pictures from "Harry Potter and the Deathly Hallows" have popped out. Debuted via
Empire Online
, the images give a look at two different scenes. One picture, which is used as news photo, sees Harry Potter being cornered by Remus Lupin, while the other one shows the young wizard and his two best friends sitting in front of Rufus Scrimgeour.
At almost the same time, a fresh official image from "
Sucker Punch
" is posted on the official website of Cruel and Unusual Films, which is Zack Snyder's production company. While the still does not capture any of the film's characters, it shares an amazing scene where a dragon fights a plane in the sky, with the background of some explosions.
Serving as the latest installment of "Harry Potter" film franchise, "Deathly Hallows" will be split into two parts. "
Harry Potter and the Deathly Hallows: Part I
" is due November 19 in both the U.S. and U.K., while "
Harry Potter and the Deathly Hallows: Part II
" is set for July 15, 2011 release. Harry will be seen out on a mission to track down and destroy the secret to Voldemort's immortality and destruction, the Horcruxes, along with Hermione and Ron.
As for "Sucker Punch", this Zack Snyder-directed and written flick follows a young girl who is confined to a mental institution by her evil stepfather. To hide her from the pain, she imagines an alternative reality including planning her escape. Starring
Emily Browning
on the lead role, the movie is slated to arrive in theaters across the nation on March 25, 2011.
Another new "Harry Potter and the Deathly Hallows" still: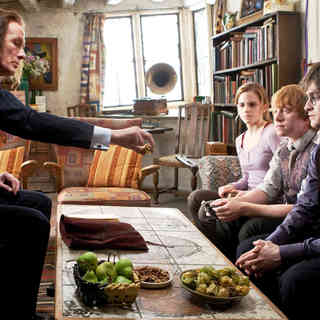 New "Sucker Punch" still