The 'Superbad' actor is spotted wearing what appears to be a gold wedding band on his left hand while walking with his girlfriend in Brooklyn.
Michael Cera
has been rumored secretly marrying his longtime girlfriend, Nadine. They were spotted walking together in Brooklyn on Sunday, March 11. There was a gold band which looked like a wedding ring peeking up on his left hand.
In the photo, the actor wore a brown coat that he paired with black pants, in addition to white shoes and an orange beanie. Meanwhile, his girlfriend wore a dark blue coat which she teamed up with dark blue leggings, a beanie and a white shawl. They seemed happy as they crossed the street in the cold weather.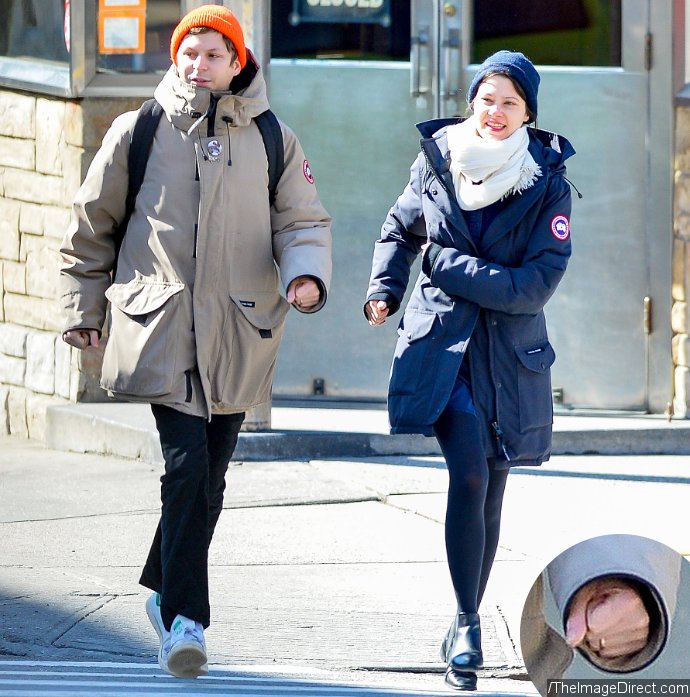 Although the gold band looked like a wedding ring, it is unclear when and where Michael proposed to Nadine. In addition, the time when they started dating remains unknown because there was no social media post of him declaring the good news. However, the actor has worn the ring since at least January 2017.
The actor, who starred in 2013's "
This Is the End
", is very private about his life offscreen. Although he has kept his relationship private, he mentioned during an episode of "
Late Show with David Letterman
" that he went on a cross-country trip with his girlfriend in 2014.
Previously, he dated
Aubrey Plaza
, his co-star in 2010's "
Scott Pilgrim vs. the World
", but their relationship was made unknown to public. However, the actress broke the secret in an interview on
RuPaul
and Michelle Visage's podcast "What's the Tee?" in November 2016. She said, "Oh, Michael. I dated him for a long time. A year and a half." She continued, "We drove across the country after we shot that movie and almost got married in Vegas." She also revealed that they fell for one another during the road trip.
Although Aubrey and Michael have broken up, they still maintain their close relationship. "We love each other. We're still really good friends," she said. "He's just a weird little freak, and we speak the same language. He's one of the funniest people I know."
In addition to being an actor, he is a musician. He released his debut album "
True That
" in 2014. In 2016, he lent his voice in animated comedy "
Sausage Party
". "
The Lego Batman Movie
", which was released in 2017, featured him as the voice of Robin. He also appeared in "
Twin Peaks
" revival as Wally "Brando" Brennan in the same year.