The former 'Teen Mom' star addressed the scrutiny she faced following the release of her sex tape with porn star James Deen, saying, 'I felt misunderstood for expressing my sensuality.'
Farrah Abraham
goes racy on her Instagram account. The former "
Teen Mom
" star treated her 1 million followers to a sultry snap, which saw her baring her nipples for everyone to see.
In the photo, the 26-year-old reality TV star looked sizzling while donning a see-through black ensemble. She has no bra underneath as she allowed everyone to take a peek at her nipples.
The mother of one posed sexily while leaning her incredible bod against a car. Letting her fiery red tresses fall down through her shoulders, Farrah gave the camera a smoldering look.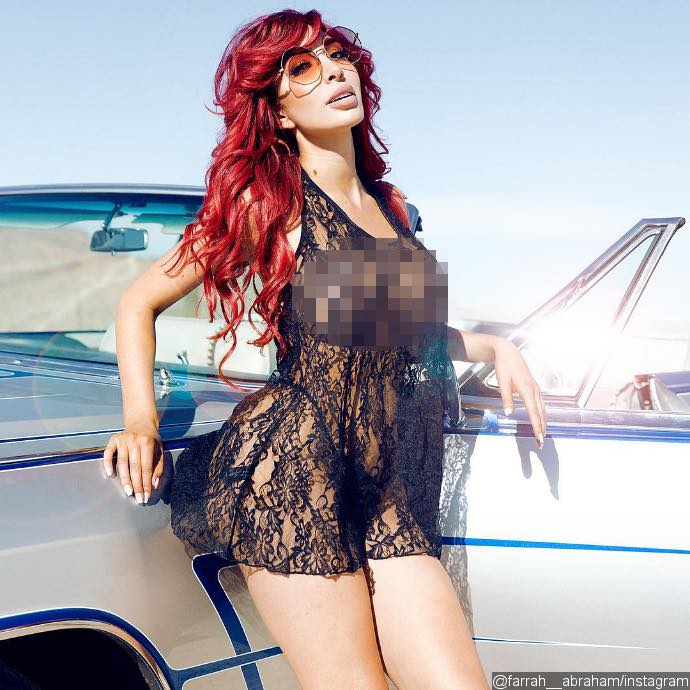 "I LOVE SUNSHINE & FREEDOM. Out Now @manyvidsofficial 'Runaway Rebels' my featured article about Adulting as a teen mother, Entertainment & Adult Entertainment... rise above the double standard in our societ," she wrote in the caption. "Wearing my collection @pulchraintimates #legalizeequality #stopsexshaming #farrahabraham #strong #OG #leader #entrepreneur #timesup #womenwhowork."
Fans seemingly assumed that Farrah was subtly shading MTV, which fired her following her decision to return to adult entertainment. In addition, she uploaded the post before "Teen Mom" aired the episode featuring her firing.
In related news, Farrah got candid in a recent interview with MV Mag while talking about her sex tape with porn star James Deen which was allegedly leaked back in 2013. "I have to emphasize that I didn't intentionally decide to work in the adult industry," so Farrah, who signed a deal with adult-film producer Vivid Entertainment to distribute the video, claimed in the interview. "At that time, I was a young experimental 21-year-old woman who happened to be a celebrity that tried to balance life, fame and dating while forging new friendships."
She later addressed the scrutiny she faced following the release. "The backlash I received for my sex tape was genuinely hurtful; I felt misunderstood for expressing my sensuality. Although it took me a few years to reconcile those feelings through therapy, along with my faith in God, I was able to overcome being sex-shamed to find my real purpose," Farrah opened up. "I am grateful for this experience because it made me into an empowered woman who proudly wants to help end the stigma around sex."
During the interview, Farrah revealed her plan after departing from "Teen Mom". "At 26 years old, I feel like I've accomplished so much already and I hope to continue to develop new products, from my furniture, toys, and clothing line to providing entrepreneurs with educational resources. The sky's the limit," she shared. "I would also love to open a new frozen yogurt location!"