Mandy Teefey says of Gomez's controversial decision to star in Allen's upcoming film 'A Rainy Day in New York', 'Sorry, no one can make Selena do anything she doesn't want to.'
Selena Gomez
had actually been warned about working with
Woody Allen
, before she agreed to star in his upcoming film "
A Rainy Day in New York
". Gomez's mom addressed her daughter's controversial decision to appear in the film after an Instagram user suggested that the "Wolves" singer apologize for professionally supporting Allen.
"Make Selena write an apology about the woddy Allen film [sic]," @victorcircus wrote on Teefey's account, to which she responded, "Sorry no one can make Selena do anything she doesn't want to. I had a long talk with her about not talking with him and it didn't click."
Teefey added, "There is no fall person here. No one controls her. She makes all her own decisions. No matter how hard you try to advise. It falls on deaf ears."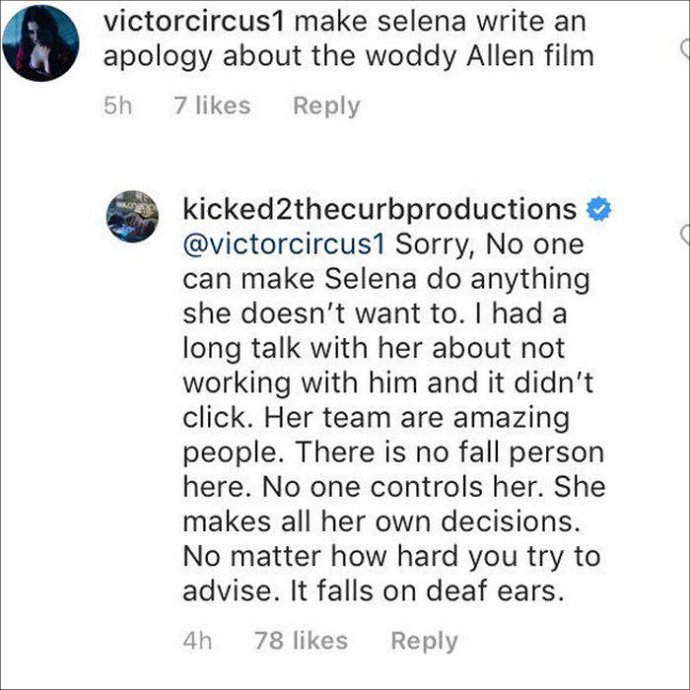 The longstanding sexual abuse allegations against Allen was brought into attention once again in the wake of the #MeToo movement. The filmmaker was accused of molesting his adopted daughter Dylan Farrow when she was 7 years old in 1992. He has repeatedly denied the allegations.
Gomez's "A Rainy Day in New York" co-stars
Rebecca Hall
and
Timothee Chalamet
have apologized for working with Allen. Chalamet, who recently gained recognition for his role in "
Call Me by Your Name
", has pledged to donate the salary he received from working on the film to three charities which include Time's Up, the LGBT Center in New York and RAINN, an anti-sexual violence organization.
"I have been asked in a few recent interviews about my decision to work on a film with Woody Allen last summer ... What I can say is this: I don't want to profit from my work on the film, and to that end, I am going to donate my entire salary," he said in a statement.
Other actors who have denounced Allen were
Greta Gerwig
and
Mira Sorvino
.
This was not the first time Gomez and her mom couldn't agree on a thing. It has been reported that the 25-year-old actress' relationship with her mom is
strained
because of her reconciliation with her ex-boyfriend
Justin Bieber
.
"Selena and her mom are still not talking as of right now, but it's getting to the point where Selena's calmed down, and she feels that enough time has passed to let bygones be bygones," a source recently told
HollywoodLife.com
.
The source added, "Selena and Mandy have always been super tight, and over the years they've had a number of blow-ups, but they've always managed to resolve everything after some time apart. Selena is definitely ready to build bridges with her mom again, but she's waiting for her to make the first move."
"They fell out over Selena allowing Justin back into her life again, and as far as Selena is concerned, her relationship with Justin is not up for debate, so either her mom needs to accept it, or butt out," the source went on sharing. "Selena made that crystal clear, and told Mandy in no uncertain terms that unless she can accept Justin, Selena has nothing to say to her-so the ball's firmly in Mandy's court."