The 26-year-old brunette ditches her bra and wears only a white underwear in a picture that she shares on the photo-sharing site.
Bruce Willis
and
Demi Moore
may need to avoid looking at her daughter Scout Willis' Instagram account for a while. The 26-year-old actress has posted on Instagram a picture of herself posing topless along with her sister Tallulah Willis.
In the raunchy snap, which was soon deleted, Scout ditched her bra and wore only a white underwear. She covered her boobs with her hands while sitting with her legs open on a gray lounger at a backyard. The brunette completed her look with a cowboy hat and orange-tinted aviator sunglasses. Her sister, on the other hand, teamed up her white one-piece swimsuit with matching shades.
Scout Willis poses topless with her white undies Entertainment News https://t.co/wFCSoM8YL9 pic.twitter.com/fzQaxk2hQh

— Ilhame Louisa Maria (@IlhameLouisaMar) 4 Desember 2017
In another snap that was posted by Tallulah, Scout was seen laying down while looking straight at the camera, flashing a smile. Meanwhile, Tallulah displayed her stunning figure while holding a drink in her hand. Scout's other sister,
Rumer Willis
, was nowhere to be seen on both pictures.
Scout is named the poster girl for the Free the Nipple campaign after pictures of her walking around New York City topless were passed around the internet back in 2014. Many people initially believed that her action was just a result of a spoiled kid's boredom before Scout herself said that it was part of the said campaign.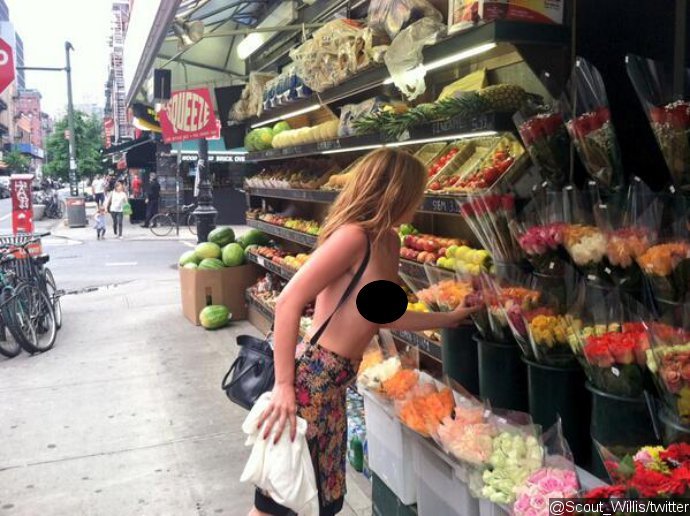 "A group here in New York called Topless Pulp gathers in parks to read topless regularly, and the Free the Nipple campaign has been protesting for the same rights for the last four years," so the brunette said in an interview. "If my coming from a high-profile family could help spread their message, so be it."
"What I am arguing for is a woman's right to choose how she represents her body and -- to make that choice based on personal desire and not a fear of how people will react to her or how society will judge her," she continued. "No woman should be made to feel ashamed of her body."