The 'Praying' songstress ditched her bra in a sheer tee when she was pictured arriving at the airport on Tuesday with her boyfriend, Brad Ashenfelter.
Kesha, formerly known as
Ke$ha
, looked radiant when she was spotted arriving at LAX on Tuesday afternoon, August 22. The 30-year-old blonde singer was all smiles as she was photographed returning from Japan at the Los Angeles International Airport that day with her boyfriend of four years, Brad Ashenfelter.
The "We R Who We R" hitmaker opted for a casual look, wearing a gray vintage
Iggy Pop
T-shirt which she teamed with a pair of back distressed jeans, a heavily-studded black leather jacket which she left unzipped, and a pair of bright blue shoes. Her bouncy assets could be seen through her sheer top as she wore no bra. She had a long-sleeved flannel shirt tied around her waist and wore a neon green beanie.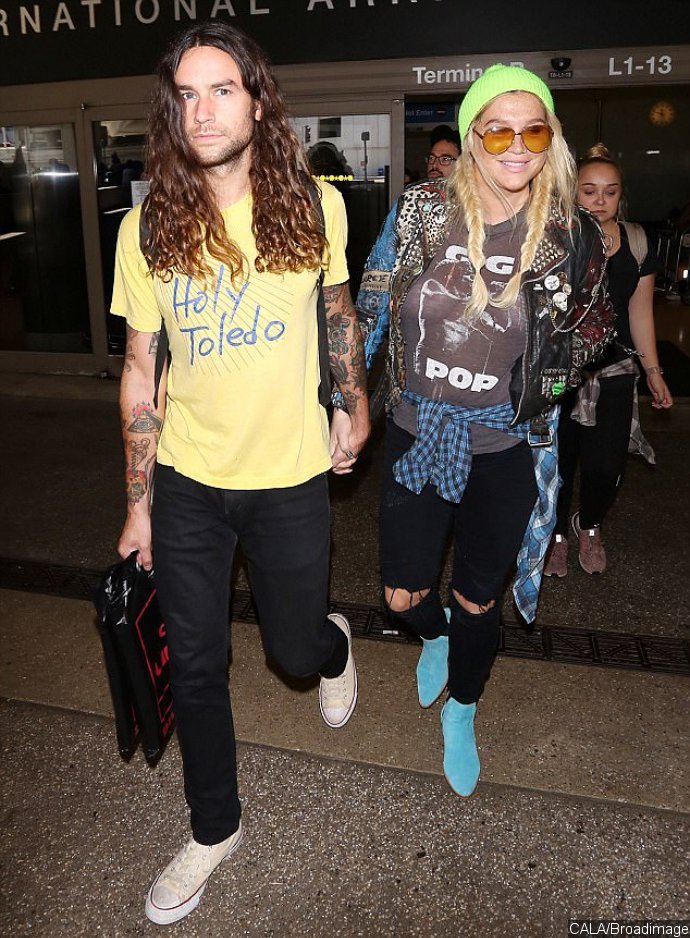 Her boyfriend went casual as well, wearing a yellow T-shirt with the words Holy Toledo written across the front and black pants. Letting his long, brown wavy hair fall around his shoulder, he finished up his look with white tennis shoes. He was seen carrying bags in his hand and strapping a backpack over his shoulder while walking hand-in-hand with the "Praying" songstress.
Kesha returning to Los Angeles comes after the news of her latest studio album, "
Rainbow
",
topping the Billboard 200 chart
broke earlier this week. It's her first album in five years since 2012's "
Warrior
" and marked her second No. 1 effort on the chart.
"Rainbow" made its way out through Kamosabe/RCA Records. The set racked up 116,000 equivalent album units, including 89,000 in traditional album sales in the week ending August 17, according to Nielsen Music.
After the happy news broke, Kesha took to her Instagram account to say that she "can't even. i am so grateful and so lucky and..... at a loss for words. thank you. thank you. thank you. there were many days that my music was simply a coping tool, for my emotions."
The "Learn to Let Go" singer added, "PLEASE GOD i hope anyone reading this knows that they also have the power to turn emotion into art and reach the world. if i can, you can. and thank you animals, for believing this day would come again for me, and making it happen. SO MUCH LOVE I CANT EVEN RIGHT NOW."