After enjoying brunch at Bubby's, the 'True Colors' singer and the 'Tall Man' actress picked up their son Silas to join their Sunday stroll in the city.
Justin Timberlake
and
Jessica Biel
are still going strong even after four years of marriage. The couple was spotted all smiles while enjoying a sunny stroll in New York on Sunday, August 13. The former
NSYNC
member was seen holding hands with his wife during the outing.
The "SexyBack" hitmaker looked casual in a Nike hooded shirt and shorts, showing off inks on his legs. He paired the look with black sneakers and a gray beanie. Jessica, meanwhile, slipped into an all-white look and matched it with silver sandals and pink backpack.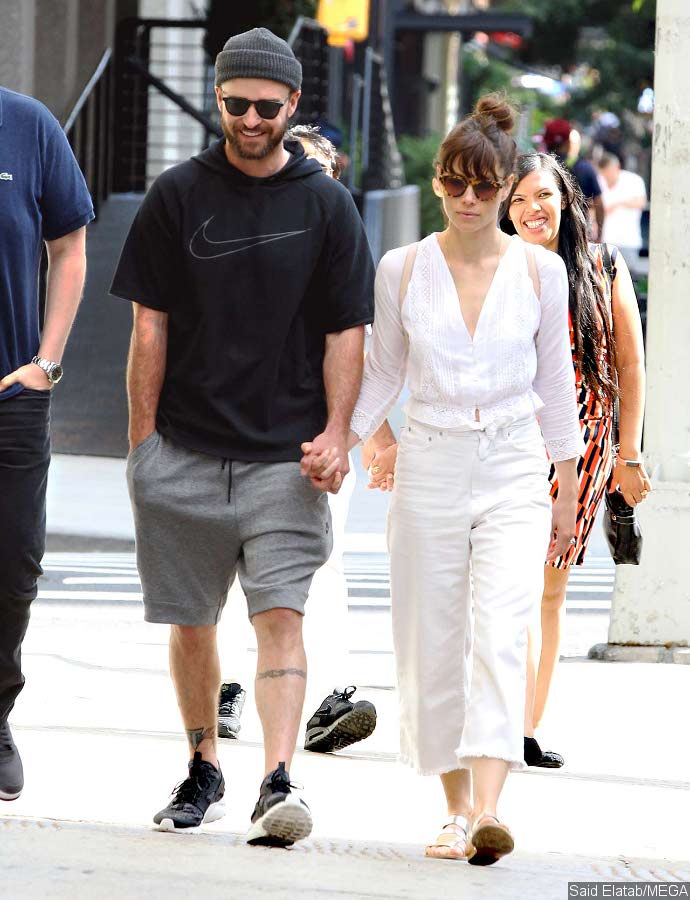 The happy couple later picked up their son Silas after brunching at Bubby's. While the 36-year-old hunk pushed a stroller, Jessica was having a playtime with the 2-year-old kid as she
swung
Silas through the air with the help of his nanny. The 36-year-old actress also tossed her kid in the air with her strong arms.
Jessica has been trying to shed weight for her role on USA Network's "
The Sinner
", but Justin was reportedly missing her curvier look. "She's been on this punishing weight loss regimen to get into character for her new series and that combined with the long work hours are taking a lot of her. She just looks so gaunt," said a source.
However, despite the significant weight loss, the "
Total Recall
" star claimed that the "Mirror" crooner wasn't afraid of her. "I don't think he was scared [of me], because he's been along with me this whole journey. I, of course, told him what the book was, what it was about, what happens, so he has been in the know for a long time," Jessica shared. "But I think it was definitely weird for him to see me like that. I hope that means that we're doing a good job and we're making it look really realistic."