The British actor gets into character, lying prone on the red carpet during the Moscow International Film Festival closing premiere.
Daniel Radcliffe
went all out to promote his new movie "
Swiss Army Man
". Playing a farting corpse in the film, the British actor also played dead on the red carpet at the Moscow International Film Festival premiere of the movie that also served as the closing ceremony on Thursday, June 30.
Instead of making common poses, the "Harry Potter" actor lay motionless like a corpse on the red carpet while photographers took his picture. Rocking a navy blue suit and patterned dress shirt, he looked pale.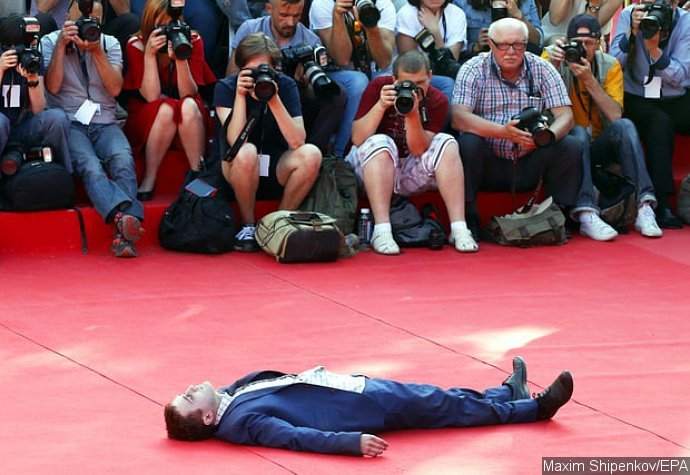 "Swiss Army Man" follows a suicidal man, Hank (
Paul Dano
), who is stranded on a deserted island. He has given up all hope of ever making it home again, until he meets a corpse named Manny (Radcliffe). The two become fast friends and ultimately go on an epic adventure with Hank riding on Manny's back like a Jet Ski. As ridiculous as it sounds, the corpse is mobilized by his farts.
Directed by Daniel Kwan and Daniel Scheinert based on a script that they wrote, the drama comedy received mixed reviews when it debuted at the Sundance Film Festival earlier this year with many audience expressing distaste.
"Many people walked out during the farting montage. At least 25 percent of the theater," an eyewitness told Us Weekly, adding, "It plays like a student film gone awry."
"Swiss Army Man" has hit limited theaters since June 24 and opens in theaters across the nation on July 1.