'Harry and Meghan: The Royal Love Story' is set to premiere on May 13 on the network, just 6 days before the actual royal wedding takes place at St George's Chapel at Windsor Castle.
Lifetime's "
Harry & Meghan: The Royal Love Story
" has dropped first-look photos of Murray Fraser and Parisa Fitz-Henley's take on Prince Harry and
Meghan Markle
. The romantic photos will definitely add hype to the highly-anticipated royal wedding.
The first snap sees Murray's Harry and Parisa's Meghan looking gorgeous in a romantic dinner. Donning a classy red sleeveless dress, the movie's Meghan is smiling brightly while sitting next to her beau Harry. Looking dapper in a black suit, Harry affectionately wraps his hand around his soon-to-be wife.
The couple is joined by Meghan's future in-laws Prince William and Kate Middleton, who are played by Australian actor Burgess Abernethy and Singapore-born, Vancouver-native Laura Mitchell respectively. The Duke and Duchess of Cambridge look equally beaming as Laura's Kate sports a beautiful brown ensemble with sparking details on the shoulders.
The other photo, meanwhile, focuses on Meghan and fiance Harry. Teasing a fairytale romance, the photo features the two couple up while dancing together. Closing their eyes, the pair place their foreheads against each other romantically.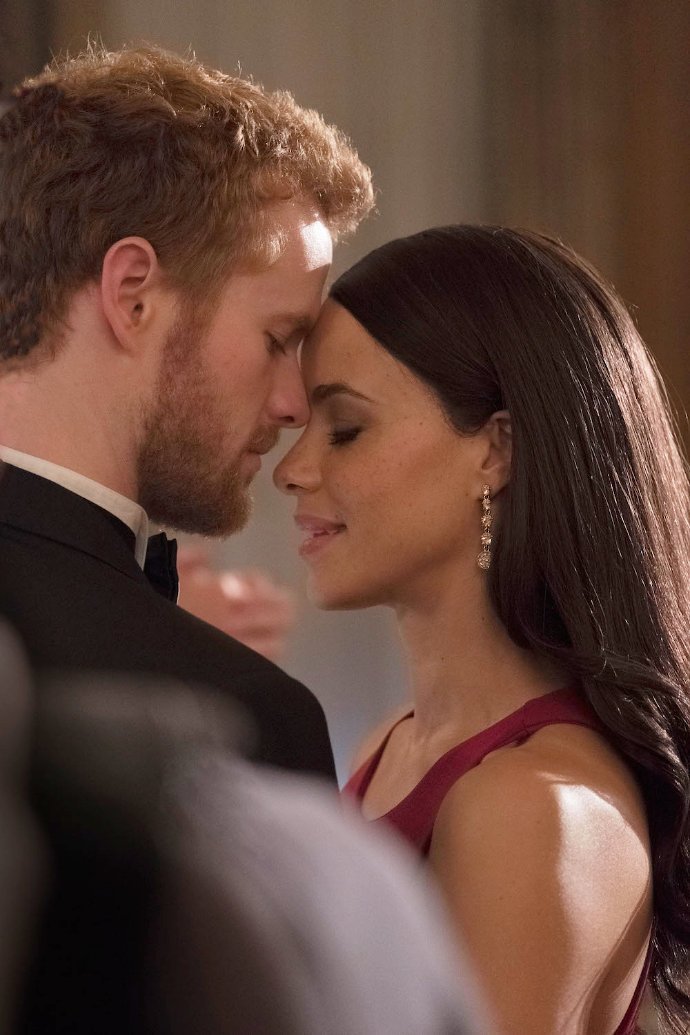 In addition to the new stills, Lifetime announces the premiere date for the upcoming TV movie. "Harry & Meghan: The Royal Love Story" will air on May 13 on the network, just 6 days before the actual royal wedding takes place at St George's Chapel at Windsor Castle in London.
On Saturday, Parisa took to her Instagram account to share that the production had wrapped up. "bout last night... ? That's a wrap on #HarryandMeghan#ARoyalRomance @lifetimetv," she wrote alongside a short clip of herself inside a car. "WHAT an adventure. We worked with fabulous actors, creators and crew. We braved the elements -- and got some gorgeous days in there too. I got to take a look inside the life of a woman and a relationship I quickly came to admire and claim as inspirations."
"To say I feel fortunate to have worked with a beautiful and moving script by Scarlett Lacey & Terrence Coli, and with such a dedicated and soulful team -- producers@cuethedogproductions, director@menhajhuda, MY Prince Harry#MurrayFraser, and more -- is an understatement. All I can think of is 'What can we make together next?!' " she added. "That's up to Fate to decide. In the meantime I'll be posting pics from our shoot, celebrating more casting announcements with you (such fun coming!), and getting ready for the premiere of this sweet film (stay tuned for release date!). So many thanks for all the wonderful encouragement! It's been lovely to catch some of the collateral love being deservedly showered upon the real Harry & Meghan."
"Harry & Meghan" follows the courtship and love story between the beloved prince and his new fiancee. The film will examine the history of Prince Harry and Meghan Markle from the moment they met after being set up by friends, through their initial courtship when they were able to keep their romance under wraps, and ultimately the intense global media attention surrounding their relationship and Meghan's life as a divorced American actress.
Menhaj Huda ("
The Royals
") served behind the lens, while Scarlett Lacey penned the script. Merideth Finn and Michele Weiss ("
Flowers in the Attic
") executive produced.