The rumored pregnant cosmetics mogul covers up as she poses with her sisters Kourtney, Kim, Khloe Kardashian and Kendall Jenner in the latest Calvin Klein underwear and jeans ads.
Kylie Jenner
is finally back in the spotlight for the latest Calvin Klein underwear and jeans ads amid rumors she is pregnant. However, the 20-year-old cosmetics mogul manages to hide her baby bump as she poses for cover-up looks during the photo shoot, which took place in October, just weeks after it was reported that she's expecting her first child with rapper beau
Travis Scott (II)
.
Kylie joins her supermodel sister
Kendall Jenner
as well as half-sisters Kourtney, Kim and
Khloe Kardashian
for the campaign. The Kylie Cosmetics owner, famously known for parading her hot body on her social media accounts before the pregnancy news broke in late September, doesn't show too much skin.
In one of the images, taken by photographer Willy Vanderperre, the famous sisters are all lying on a big red-and-white quilt. While her sisters are posing in their Calvin Klein underwear, Kylie has the blanket draped over her, revealing only her bra. She also grabs her sister Khloe's hand which is placed on her stomach.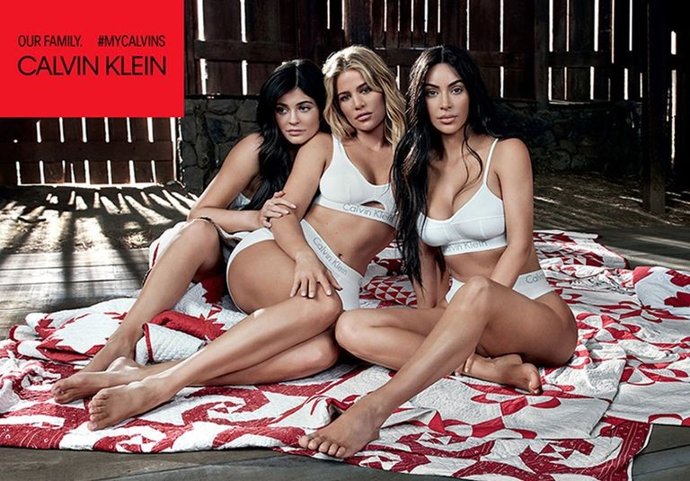 In another photo, the youngest Kardashian-Jenner sister is carefully positioned behind her siblings, with her chin resting on Khloe's shoulder.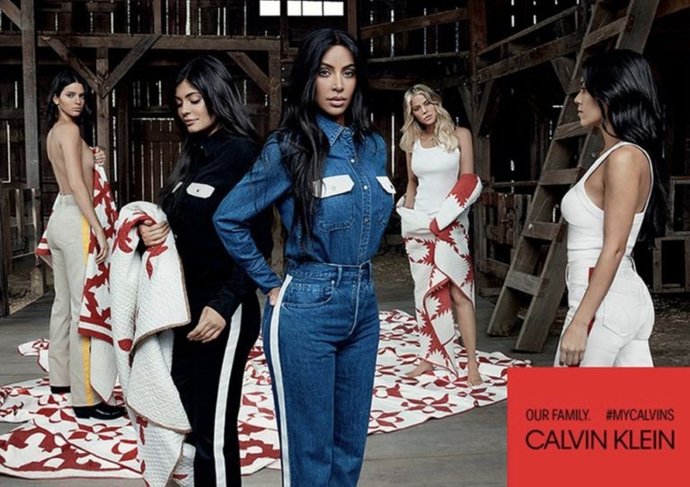 Another snap finds the "
Life of Kylie
" star, with the same blanket being draped over the bottom-half of her body, wearing a buttoned up denim shirt while Khloe and
Kim Kardashian
are lying in their underwear.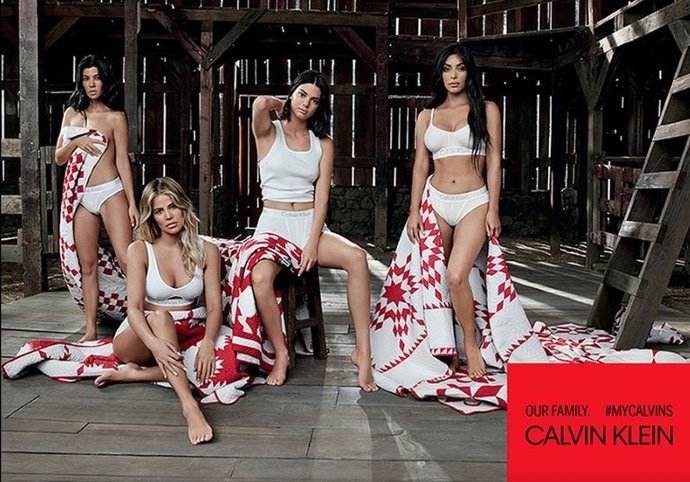 Meanwhile, in a video ad for the brand, all the sisters can be seen lounging on the same blanket while playing a game of "Never Have I Ever." Kim is the first to share, "Never have I ever got a tattoo." Kendall then admits, "Never have I ever dyed my hair."
"Never have I ever jumped out of a plane,"
Kourtney Kardashian
chimes in. Next is Kylie's turn. She confides, "Never have I ever eaten a rattle snake." Kourtney notes, "I have." Kendall adds, "Never have I ever been married," to which Kourtney responds, "Same," before pounding fists with her supermodel sister.
While Kylie joins her family for these Calvin Klein ads, she was noticeably absent from the family Christmas card series last month. A source close to the famous family recently revealed to
Entertainment Tonight
that Kylie's "been taking time out of the spotlight to prepare for her new life as a mother." The source added, "[Kylie's] worked hard her entire life, and being a mother will be a lot of work, so now is a chance for her to recharge."
But this isn't "a permanent thing," another source told
the publication
. "As soon as the baby is born, she will make an announcement and introduce the baby to her fans," the source continued. "She will also address the fact that she went 'dark' on social media and in the public." Kylie reportedly "will release a photo" and "will acknowledge the baby. She's excited to continue to be her authentic self, and that will soon mean being a mother and sharing that with her fans."