In a series of Instagram Stories photos, the 32-year-old pregnant model goes topless as she gets her chest makeup applied for the season premiere of 'Lip Sync Battle'.
Chrissy Teigen
went topless while getting ready for the January 18 season premiere of her TV show "
Lip Sync Battle
". The model, who is currently pregnant with her second child, wore nothing but a black piece of shapewear which covered up her growing baby bump while her stylist, Monica Rose, applied makeup to the sides of her boobs.
Monica took to Instagram Stories to share a series of photos featuring the 32-year-old pregnant model during their makeup session. To prevent her nipples from being exposed, Chrissy could be seen in the snaps cupping her bare breasts. "Tricks of the trade," so Monica wrote across the snaps, which showed Chrissy smiling widely as she nearly stood on her tiptoes.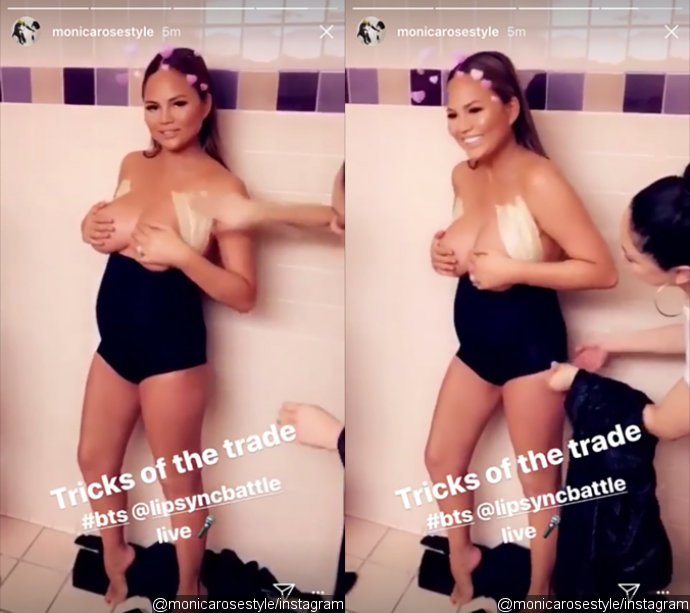 Chrissy is expecting her second child with singer husband
John Legend
in the spring. The mother of Luna, 2, has been open about her fertility struggles and how she and her 39-year-old husband have to turn to in-vitro fertilization (IVF) to have kids. Chrissy has revealed that after Luna, their next embryo is male, meaning that she is likely having a baby boy.
However, the couple has yet to officially reveal the gender of their second child. When preparing for the new season of her show with co-host
LL Cool J
, the Sports Illustrated Swimsuit Issue model, who is always very open, even decided to keep her lips sealed on the baby's gender.
Asked if Luna's going to have a baby brother or sister, Chrissy told Mark Wright of Extra, "I'm not gonna say" even though she did "want to say so bad." Admitting that she and her singer hubby did know what they're having, Chrissy said, "Yeah, we know because we did the IVF route again, of course, and then John was like, 'Let's have something for us,' so I'm giving him that."
Speaking about her second pregnancy, Chrissy shared that it's "very different than the other one." The model added, "Well, I think I've put, I put on all my weight that I did with Luna. but I'm only five months, so... We're having a good time with it. I have a lot of energy."