Angelina steps out with her daughters Shiloh and Zahara at The National Board of Review Awards Gala in New York City after Shiloh broke her arm during a family vacation in Lake Tahoe.
Angelina Jolie
's daughter Shiloh is okay after injuring her arm during a family vacation in late 2017. The 11-year-old joined her mom as the "
Maleficent
" star attended The National Board of Review Awards Gala in New York City on Tuesday night, January 9.
Angelina was also accompanied by her daughter Zahara. Wearing an arm sling, Shiloh was beaming while being sandwiched between her mother and sister while posing on the gray carpet. They were all dressed in black, with Shiloh wearing a white shirt underneath her suit. Zahara, meanwhile, donned a black top and a navy jacket. Angelina was elegant in a strappy dress with a lace overlay.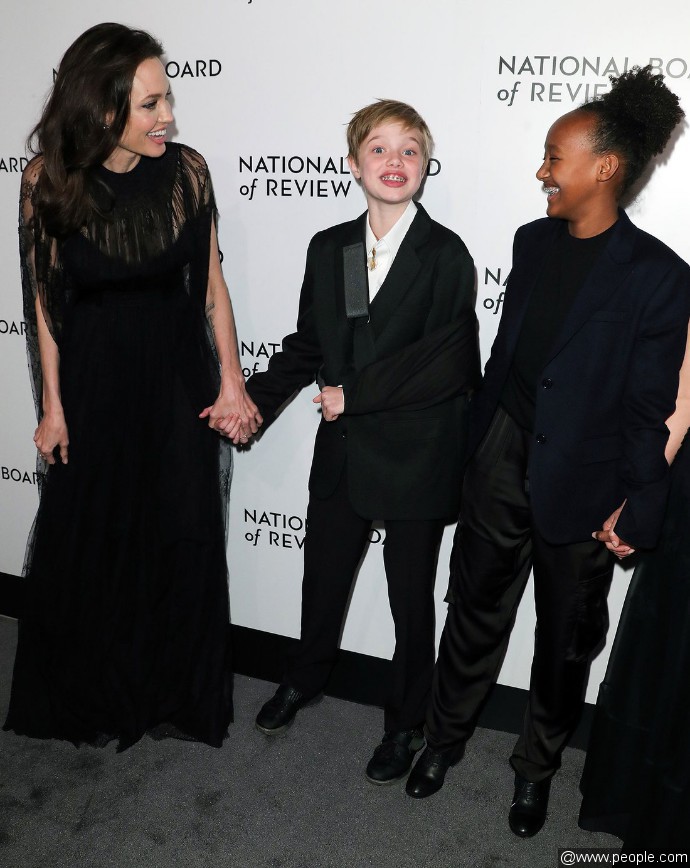 It was previously reported that Shiloh broke her collarbone on December 29 during a family trip in Lake Tahoe. "Mom was very grateful to the team who helped her," a so-called insider told PEOPLE after the incident.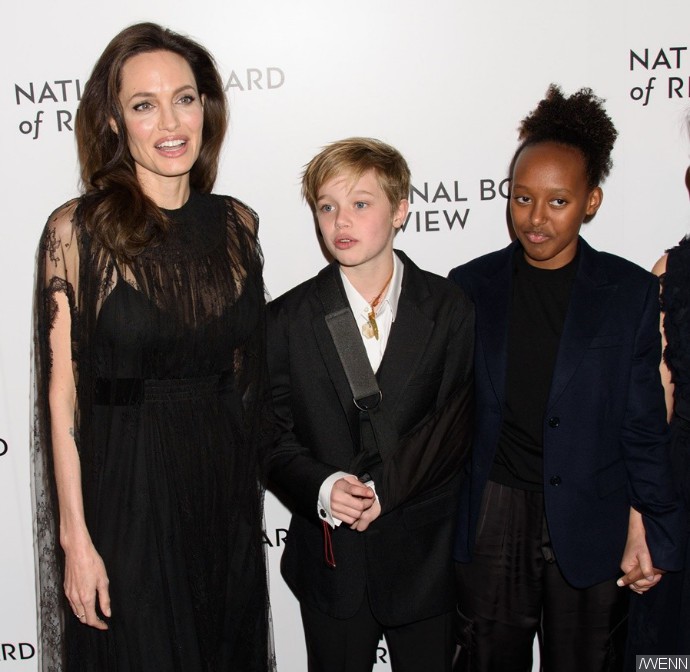 On Sunday, the 42-year-old actress/director stepped out with son Pax at the 2018 Golden Globes. Meanwhile, her eldest son Maddox was at home looking after his sister Shiloh as he's now "the man of the house." A source told
HollywoodLife.com
, "Maddox has taken on the role of caretaker in the family, and just like his mom, he's not a huge fan of awards shows and the red carpet, so he preferred to stay home and look after his little sister Shiloh rather than go to the Golden Globes with Angelina."
"Pax loves dressing up and hitting the carpet, and he's much more naturally sociable and comfortable in the spotlight than his brother," the source added. "Maddox views life much more seriously than Pax, and already has a great passion for philanthropy and human rights. He finds the glamor and glitz of Hollywood a little distasteful, so he was more than happy to skip the Globes and allow his brother to bask in the spotlight."
Later, it was reported that
Brad Pitt
was not happy Angelina took their son Pax to the Golden Globes without his permission. "Angelina went behind Brad's back and took Pax to the Golden Globes without the father's permission. Brad was furious that Angelina did not consult him before taking their son Pax to a major, adult event like the Golden Globes," a source told
HollywoodLife.com
. "It irritated Brad that he found out, casually from the other children, at the last minute."
The source added, "While Brad appreciates that his children get extraordinary experiences in life thanks to their unique family, Brad just wishes that he was kept in the loop for big decisions like award show appearances. Brad thinks it is not entirely healthy the way Angelina drags the kids everywhere she goes, so he made it clear to her after the award show that he would appreciate it that he be more informed of future major public appearances for their children."